Billboard Reviews
---
Nov 7, 1960
*** Teach Me — Moving rockaballad is wrapped in feelingful vocal by the thrush.
*** Lonely Girl — Verveful piping on a catchy r&r ditty.
June 12, 1961
**** Heaven Is Being With You — Pop and country meet with the r&b sound on this all-encompassing tune. The chick does an appealing job on the rhythm ballad and it could cause some action.
*** Think About You — The girl has a solid rocker that jumps right along on this side. Support from the vocal group and rocking combo make for effective assist.
Aug 7, 1961
**** Wish I Could Find A Boy (Just Like You) — She's looking for a boy like the one she knows, shouts the gal on this gospel-styled discing. Lass has a sound and a chance to break loose. Watch this disk.
**** I Won't Turn You Down — Jackie De Shannon turns in an emotional reading on this wistful rockaballad over sock support from the string ork. A very strong side with a chance.
Nov 13, 1961
**** Ain't That Love — The Ray Charles hit receives a very exciting performance from the thrush over driving backing from the chorus and ork. This could happen.
**** Baby — Wild hunk of material is handled with spirit by the enthusiastic thrush on this swinging side. She sells it solidly and the backing is in the groove.
Aug 4, 1962
**** Just Like In the Movies — A first-rate ballad is sung with much heart by Jackie DeShannon over a sparkling rock ork arrangement. Could go far with the teens. Flip is "Guess Who."
Sept 15, 1962
**** I Don't Think So Much of Myself Now — This one is slightly reminiscent of the "I Know" Barbara George tune. Miss DeShannon swings in a medium tempo against tight combo and vocal chorus work. Side has strong dance beat for teens.
**** You Won't Forget Me — Big production on this weeper. The lass' place has been taken but she promises he won't forget her. Side has strong beat with vocal chorus, virile piano work and strings.
March 7, 1964
Pop Spotlight
Oh Boy — This side jumps. It's full of glee and a strong up-tempo swinger with multi-tracking and driving beat. The flip is "I'm Looking For Someone To Love."
September 18, 1965
A Lifetime of Loneliness — Dramatic, moving Bacharach-David ballad will top the success of her "What the World Needs Now Is Love." Outstanding vocal production. Flip: "Don't Turn Your Back On Me!"
April 23, 1966
Come And Get Me — Rockin' lyric ballad from the pen of Burt Bacharach and hal David and an exciting performance by Miss DeShannon will put her back on top of the charts. Flip: "Splendor in the Grass."
Jan 21, 1967
Come On Down — A multi-voiced Jackie DeShannon backed by a lilting George Tipton arrangement will work its way right up the Hot 100. Exceptional performance of a good new tune gains with each hearing. Flip: "Find Me Love."
---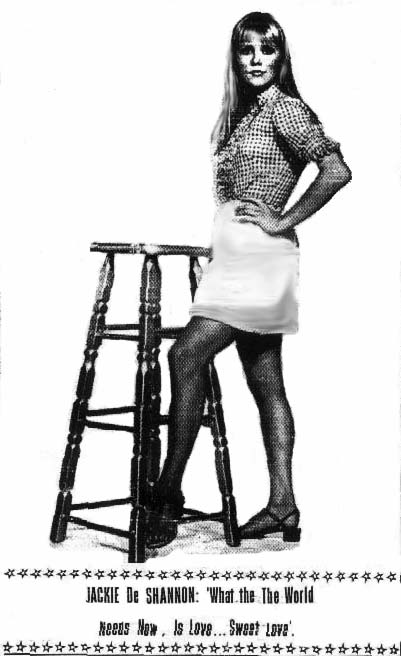 ---
---
Click on Jackie to return to page one.
---