music and memories
Jackie DeShannon ~ Come And Get Me: Best Of...1958-1980 ~ Raven RVCD-106

by Don Charles (from Discoveries #150, November 2000)
---
In the 1960s, Jackie DeShannon had so much going for her it was almost unfair. She had that sexy little bobcat singing voice, sun-bleached blonde hair and a curvaceous figure; and one of the coolest stage names of any '60s pop star. DeShannon's composing talent had artists the calibre of Irma Thomas, The Searchers, The Carpenters, The Byrds, Darlene Love and Brenda Lee lining up to sample her song demos.
All of these factors worked in her favour, bringing her success on television, film, vinyl (two dozen chart singles) and the concert stage (a choice slot on the Beatles' first American tour). Yet, she never became the superstar the quality of her records suggests that she should have been. Hard as it may be to believe, DeShannon scored no more than two Top Ten hits in Billboard; the majority of her singles failed to break Top Forty. However, this didn't stop a fierce cult following from forming around her.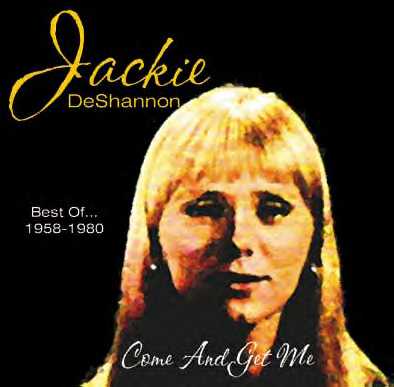 Reissues started hitting the market as early as July 1968, and since then, they've appeared with regularity. Glenn A. Baker's Australia-based Raven Records has essayed the first Jackie DeShannon retrospective for the new millennium. He needed to work mighty hard if his intention was to better EMI Records' Definitive Collection, Ron Furmanek and Steve Kolanjian's superb 1994 overview of DeShannon's '60s output. In all honesty, that now out-of-print collection is still the best anthology of the lady's work. However, as it only covers her recordings for the Liberty and Imperial labels, Come and Get Me fills in some blanks by presenting choice tracks from the 1970s and '80s as well.
Fifteen of its 29 tracks are duplicated from the EMI CD, though some appear as different mixes. An argument can be made that Come and Get Me should've started where the Definitive Collection left off. On the other hand, DeShannon's biggest hits appeared during the '60s, hits sell CDs, and one does want releases like this to sell, right? Besides, what anthologist with a decent set of ears could resist programming radio classics like "What the World Needs Now" and "Put A Little Love In Your Heart?" Not to mention girl-group rarities like "Hellos And Goodbyes," "Should I Cry?", and DeShannon's stunning collaboration with guitarist Jimmy Page, "I Remember the Boy?"
Come and Get Me does include some Liberty/Imperial material that wasn't available on the Definitive Collection. Regrettably, not all of it is worthwhile. "Baby (When Ya Kiss Me)" is a noticeable inferior DeShannon composition, for all its high-energy delivery. Her cover version of The Fifth Dimension's "The Girl's Song" is another questionable choice. Emotion and melody fail to connect; despite the Jimmy Webb pedigree, the song does nothing for her. "A Proper Girl" is notable only for its unusual use of a calypso arrangement.
Fortunately, Baker and his co-compilers zero in on prime-cut DeShannon with such winners as the Gene Pitney/Roy Orbison-styled "Hold Your Head High" and "It's Love Baby (Twenty-Four Hours A Day)," with its Ventures-meets-Motown groove.
Jackie DeShannon was and is a rocker, no doubt about it; but she was determined to show her versatility as an artist. She interpreted songs by other writers at least as often as she sang her own compositions, and tended to change music styles (and producers) frequently. The same vocalist who rocked out on Sonny Bono and Jack Nitzshe's "Needles and Pins" could sound world-weary and urbane on Toni Wine and Carole Bayer-Sager's "Nobody's Home To Go Home To" or like a female Jimmy Buffett on her own "Boat To Sail." Rockabilly and folk rock stompers began to give way to smooth pop ballads, especially after Burt Bacharach and Hal David ventured into the studio with her. The results of those sessions - "What the World Need Now," "A Lifetime of Loneliness" and "Come And Get Me" (among other songs) were great records, even though they took her squarely into adult-contemporary territory.
The key to the success of this collaboration is that, orchestral gloss notwithstanding, Bacharach and David still allowed DeShannon to access her country, folk and gospel roots. That's something producers like Calvin Carter and Joe Wissert often forgot to do, and she suffered for it.
Country and gospel music are the foundation of superlative '70s waxings like the tambourine shaker "Ease Your Pain;" the spicy, eyebrow-raising "You Touch and You Go;" "Don't Let the Flame Burn Out" with its simultaneous uptown/down-home feel; and "Vanilla Olay," her soulful collaboration with Aretha Franklin producers Jerry Wexler, Tom Dowd and Arif Mardin. Then, there's DeShannon's original recording of "Bette Davis Eyes." It's so different from the Kim Carnes version that topped the charts in 1981, it's a revelation. Warm and upbeat where Carnes's recording was cold and edgy, it rocks along with a hot western swing band. This is quintessential Jackie DeShannon, revelling in her southern heritage.
The CD ends on a decidedly sour note with "I Don't Need You Anymore," an unmemorable Burt Bacharach-Paul Anka ballad from an equally unmemorable 1980 movie, "Together." As flaccid as a wet dishrag, it somehow holds the distinction of being DeShannon's last chart hit to date; hopefully, it won't be her swan song, because she is capable of so much better. Happily, the bad taste this track leaves in your mouth isn't strong enough to spoil the entire meal. Come and Get Me forcefully reminds both new converts and long-time Jackie DeShannon fans what a glorious sound rock'n'roll can be when a feisty gal from Kentucky picks up a guitar and gives from her gut.
---
---
Please click below for the index page to this issue.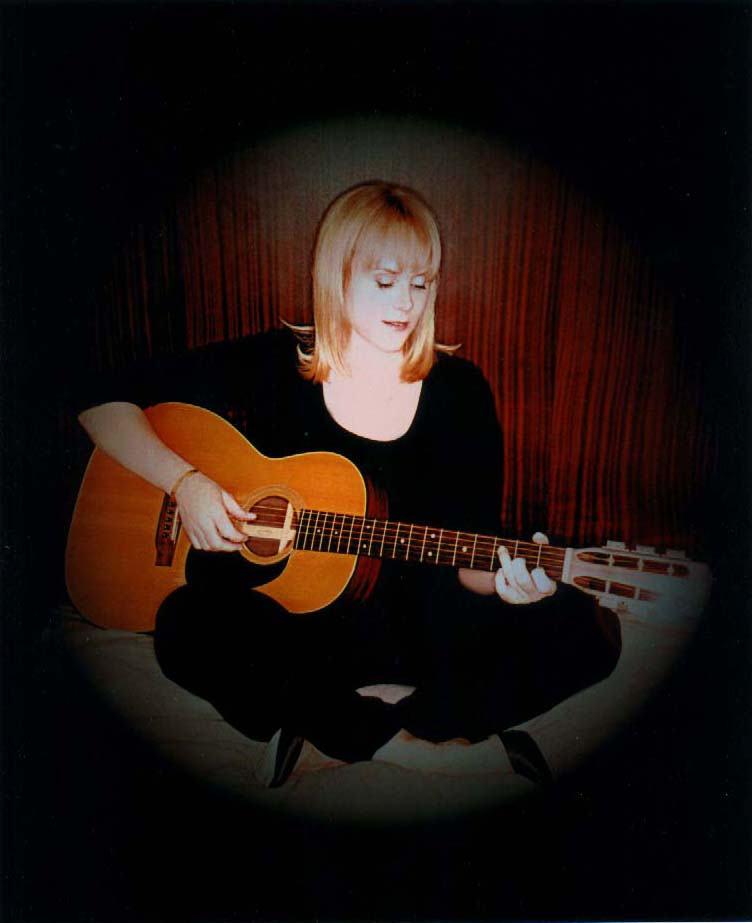 ---
Click on Jackie to return to page one.
---