Live!
---
After her brief teaser on The Late Show With David Letterman last January, Jackie made it back to New York City for two very different nights of live appearances, both at the famed club The Bottom Line. The first was an acoustic concert with three other singer-songwriters. The second was a full set with her 6-piece band (Glen Burtnik - acoustic guitar & vocals; Dave Anthony - bass & vocals; Jimmy Leahey - electric guitar & vocals; Ray Anthony - percussion; Kasim Sultone - electric guitar & vocals; Tom Brislin - keyboards & vocals).
---
"In Their Own Words"
The Bottom Line, New York City
March 3, 2001

by William George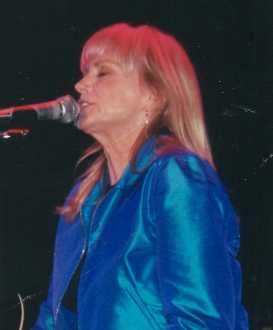 New York City public radio station WFUV presents a regular series of concerts at The Bottom Line called "In Their Own Words" which features respected singer-songwriters in an acoustic writer-in-the-round format. For two shows on March 3, Jackie DeShannon joined Nashville songwriter Fred Knobloch, rocker Darius Rucker (of Hootie & the Blowfish) and singer-guitarist Al Anderson (ex-NRBQ) for an intimate evening of stories and songs.
The first show began at 7:30 pm. Jackie was accompanied on guitar, piano and harmonica by multi-instrumentalist Glen Burtnik, who served as a sturdy musical collaborator, as well as providing solid vocal harmonies.
The four artists took turns playing their own songs, four originals and one cover each. Jackie followed opener Fred Knobloch, and began with a solid version of Bette Davis Eyes, which owed more to Kim Carnes' hit version than her own countrified recording. She spoke disparagingly of her original rendition of the song, lamenting that producer Michael Stewart had turned it into a shuffle.
Before her second song, host Rita Houston asked Jackie about her new CD. Jackie explained that this was the first time in her career that she'd had complete control over all aspects of the creative process, and that "in the past, people only saw little tiny glimpses of me through a kaleidoscope, and not really the whole shootin' match." With that, accompanied by Burtnick on piano, Jackie performed a tender version of You Know Me. After the song, Houston asked if Jackie had missed performing, and what had inspired the new batch of songs. Jackie answered that she did miss performing a lot, but that until now she couldn't meet her standards with the way the music industry was. "What I want to do is serve the music. And it's such a thrill. It's like being a new artist again. It's just so exciting because I feel reborn. It's a coming-out party for me."
For the next round, Jackie shared stories about her formative musical years, like jumping up on stage with Tex Ritter when she was three years old, having a radio show at age five, and being influenced by gospel music. Rita Houston then asked her about being a pioneering female musician in the early days of rock and roll. "Basically I had this vision," Jackie explained, "and it was very very difficult because women in those days had no leverage whatsoever, and it was not possible to be a producer and writer and to have control of your music. So it was a constant battle and it was pretty discouraging." Houston continued, "You were on both sides of the fence too, as a performer and songwriter. Jackie replied, "Yes, in those days they called it lack of direction, and now they call it versatility." She went on to talk about making her legendary demos, and how they were "whisked away" from her and given to other artists.
Before leading a rousing sing-a-long of Put A Little Love In Your Heart, she explained the title came from something her mother used to say to her, and that BMI reports that radio play is up to two million! She coaxed Darius Rucker (as well as the enthusiastic audience) into singing the title line, and Fred Knobloch and Al Anderson joined Glen Burtnik on guitar.
Jackie next talked about her experiences working with Burt Bacharach. "It was like being part of a movie. I felt I was an actor, Burt was the director, Hal had the script, and it was very much their show." She went on to say that What the World Needs Now is Love was a song that everyone else had turned down It was recorded live in two takes, with the full orchestra, singers, everything. When asked if she'd ever considered writing a book about her experiences, Jackie replied with a firm "No!" explaining that she is a very private person. She then gave an intimate performance of Vanished In Time, accompanied by Burtnik on guitar.
For the final round, the performers were asked to sing a song they wished they'd written. Jackie chose Bob Dylan's Don't Think Twice It's Alright. This rendition, when compared to her original recording nearly forty years ago, was a revelation. The feisty attitude of the teenage Jackie was replaced by the world-weary resignation that only the wisdom of age and experience can bring. Glen Burtnik provided moving guitar and harmonica accompaniment.
For the 10:30pm show, the performers changed their set lists somewhat. They also had developed some camaraderie, and joined in on each other's songs more often. Jackie started the second show with Bette Davis Eyes again, following it again with You Know Me.
Before her third song, Jackie said one of the greatest moments for her as a songwriter was when Bruce Springsteen sang When You Walk in the Room on that same stage. Al Anderson quipped that he had played it ten years earlier than Bruce. With that, everyone on stage joined Jackie for a energetic rendition of her most enduring tune.
When asked about her influences, both past and present, Jackie was reluctant to name anyone, although she did name Elvis Presley as someone she considered a mentor. She followed with another performance of Vanished In Time, explaining that this song was the catalyst for the new album.
For the final round, the first cover was played by Fred Knobloch, who performed a re-worked rendition of The Byrd's version of Dylan's My Back Pages. Jackie contributed harmony vocals. This brought up Jackie's work with the Byrds, who she said was her band on some of her demos. Jackie followed with a surprise rendition of Bruce Springsteen's Hungry Heart, complete with New Jersey accent that had the crowd singing along. Darius Rucker contributed John Prine's Angel From Montgomery, with everyone again joining in, including Jackie on harmony. Al Anderson wrapped up the show with a gorgeous version of You're So Beautiful after goofing around on The Beach Boy's God Only Knows, in which everyone got in on the fun.
Throughout the evening, there were references to artists that pointed out how wide-ranging Jackie's career has been. Besides the Byrds and Bob Dylan, there were mentions of artists as diverse as Randy Newman (Jackie's early co-writer), Led Zeppelin (Jackie wrote with and was engaged to Jimmy Page), John Prine (Jackie recorded Paradise), Steve Goodman (Jackie recorded Would You Like to Learn To Dance), Don Dixon (his wife, Marti Jones, recorded Jackie's composition Each Time), and Marianne Faithfull (who recorded several of Jackie's songs). Al Anderson commented on what an honor it was to share a stage with Jackie DeShannon, and said he bought Brenda Lee's record of Dum Dum as well as Jackie's original recording of Needles and Pins.
All of the artists were first-rate writers and performers, were well-matched, and could easily have held a whole evening on their own. Collectively they created magic. It was an evening I won't soon forget.
---
"THANK YOU. YOU REMEMBERED!"
The Bottom Line, New York City
March 10, 2001
by Peter Lerner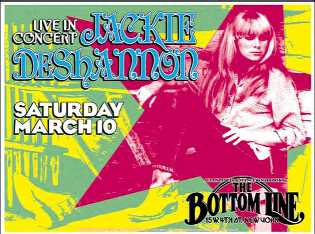 What a crazy thing to do; to fly from London to New York, for a long weekend, just to catch a concert.
Well, not so crazy when the star of the show is Jackie DeShannon, whose records I've been buying for nearly 40 years. So my partner, Karen, luckily didn't need too much persuasion, and we flew out of a cold and grey London on a Friday afternoon, arriving in a cold and grey New York the same evening. Our first encounter with a Yellow Cab driver was all I expected it to be - that is I felt scared, intimidated and ripped off! But on arriving at our warm and luxurious hotel room in Park Avenue, we started to cheer up, and the mood improved by the minute as we got as much tourism out of our system as possible.
Saturday evening we took another cab to the Bottom Line to pick up our tickets for the late evening show, and then off into Greenwich Village to eat at a Mexican restaurant. Back to the club in good time, where we were greeted by old friend and JDSAS publisher Bill George, and soon met long time correspondents Mark Tyler of Pennsylvania and Doug Wright of Toronto, Canada We got good seats, not too close to the stage, not too far back, just enough room, and relaxed with our drinks.
Now in Britain, "support acts" are usually rubbish. We talk through their shows and clap politely at the end. Not so Mike Errico, who started the show for Jackie. Mike is an off-the-wall singer songwriter with a good audience rapport and some effective songs. I thought he was OK; Karen bought his CD. So he was good. But (whisper it softly) I was glad when his set finished........because, after a short break .......
Onto the stage bounded our Jackie, slim and trim in blue jeans, smiling and bouncing, looking half her age (whatever that may be). Straight into an enthusiastic and celebratory romp through When you walk in the room, nice and jangly, well supported by her all-male band featuring guitars, keyboards and drums. We sang along, we grinned - it was going to be OK. And it was! Just how right you are maintained the mood, with Jackie full of confidence, and her band producing lovely, fuzzy sounds.
A change of pace for You know me - a new song, but one we can also sing along with, and then Jackie told us that the show was dedicated to her mother, Sandra Jean Myers, and to Jack Nitzsche - who wrote the next song, Needles and Pins for her. This was indescribably good. Jackie sounded just as she did way back then, her voice hitting that lovely lower register, and obviously totally entangled in the emotion of the lyrics. But no "Pins-a" this time - leave that to the Searchers.
Six songs from the new CD followed, and my, how good these songs are. Jackie sang them as if she had been performing them for ever - words and music sung effortlessly and beautifully. Steal the thunder upped the tempo, and then Any heart slowed it right down again. Red Montana Skies was evocative, and my favourite of her new songs, Wing Ryder was heartbreaking with its lovely tune, concluding with a great guitar solo. Jackie played rhythm guitar for most of the numbers, but for this one she stood with her hands clasped. There goes the one featured some good vocal interplay between Jackie and the boys in the band, and Vanished in time, an arresting lyric, was dedicated to Jackson Pollock, its inspiration. Jackie said the song took two years to write.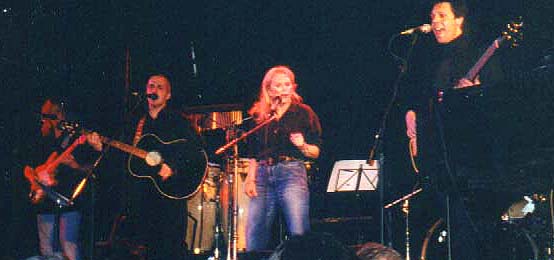 Then the band struck up a peculiar waltz time. What on earth? No... yes....it isn't.....it was! For the first time in the history of the world, a rock band led into What the world needs now is love, jubilantly performed by Jackie, with the rest of us joining in. "Thank you, you remembered!" called Ms DeShannon at the end. We certainly did, Jackie. It was the best ever.
Then another odd intro. Strange keyboard sounds. An insistent rhythm. A familiar riff. Jumping and bouncing, Jackie led us into the legendary Bette Davis Eyes, decidedly done the Kim Carnes way. A rave. And at the end, with a little wave, Jackie left the stage.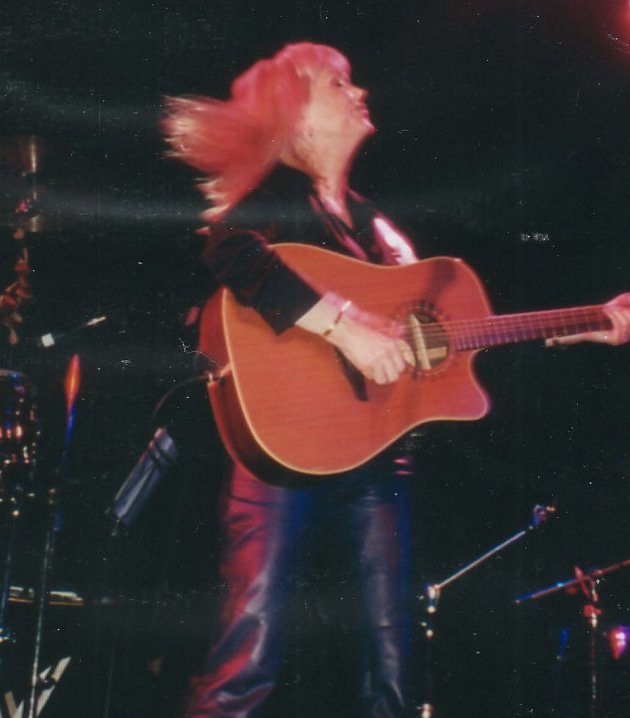 At this point, British audiences shout "Moooooooore", whistle, and bang the table. This is what I did. Americans just clap a lot, so I was slightly outnumbered. But Jackie and the band didn't waste too much time coming back, and grinned their way through an "audience participation" run through Put a little love in your heart. If that had a light touch, Jackie certainly hadn't forgotten how to rock through her final two encore numbers. Can't find my way home was a Blind Faith song Karen, and I hadn't heard before, but most of the rest of the audience had. Was Jackie pronouncing the first word carrnt rather than can't because she knew she had a couple of Brits in the audience? By that stage, I could have believed anything. And into the final song, Bruce Springsteen's Hungry Heart, and a well-earned standing ovation for Jackie and the band.
"Stay behind" whispered Bill, "and you might get to meet Jackie". Bill was right. Within a few minutes Jackie was signing autographs and chatting to an orderly file of fans, looking fresh as a daisy after her energetic performance. I think Jackie was quite impressed when I told her that Karen and I had flown in from England to see her, and Karen took a good shot of Jackie and me chatting like old pals, before her film chose that moment to run out…
What a night. A truly great show, a sympathetic venue, an audience of warm hearted fans, a rockin' band, and a star performance from Jackie DeShannon which really was worth years of waiting. •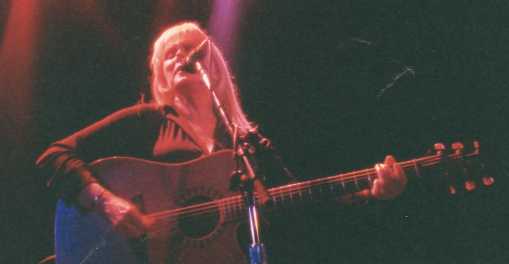 ---
---
Please click below for the index page for this issue.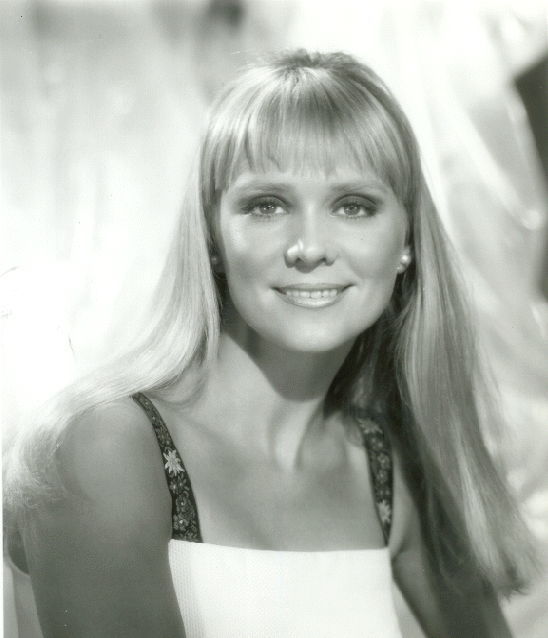 Click on Jackie to return to page one.
---