Live!
---
An Evening With Jackie DeShannon
McCabe's Guitar Shop
March 23, 2001
by Bill Reed
I didn't quite know what to expect going to see Jackie DeShannon tonight at McCabe's here in Santa Monica. Except for very recently, I don't think she's been seen live for perhaps fifteen or more years, but apparently has been woodshedding, as well as being kept busy songwriting. She still has the hair, the bangs, the figure – and most importantly – that fetching overbite. The voice, unlike it's "supposed" to, has not at all deepened with age. Even when she would occasionally dally with some fairly serious belting, the equipment didn't falter. No burnish, no bran muffin rasp, but exactly the same as in the 60s, when she was helping to popularize her own unique blend of country, folk, Mersey Beat, Sunset Strip Rickenbacher Rock and r&b.
Jackie DeShannon is now doing a flat out, hard rock act. I have seldom seen anyone ever so loose on stage and just simply having a wonderful time. Armed with a band of six players, all of whom inarguably are young enough to be (fill in the ageist observation of your choice), and clad in tight jeans and a white shirt, she hits the ground running and does a terrific high energy act that only someone who has been in the business as long as she's been could bring off. She really knew how to work the sold out crowd of 150 or so at the intimate guitar shop by day, performance space by night, McCabe's. Sold out tomorrow night, too. One assumes she could continue to fill the place for many more nights.
About the only time it gets quiet is for What the World Needs Now is Love. The rest of the time, the band sounds like a cross between – if you can imagine – the Byrds and the Velvet Underground. I was in the front row when I sat down in a space about the size of a large living room. By the end of the first number I'd fled as far back as I could get. Much, much better. I think even in a large room, the sound mixing could use some tweaking.
Jackie performed mostly all her own songs except for one by Bob Dylan (Don't Think Twice) and one by Steve Winwood (Can't Find My Way Home). Included also were the two big numbers she wrote, Put a Little Love in Your Heart and Bette Davis Eyes.
Jackie DeShannon brings to mind the same kind of wonderment as does Tina Turner in the sexy, amazing grandma department. Absolutely nothing ungainly about the way she runs rings around performers a third her age. Take your kids and grandkids for a nice transgenerational evening.
---
SONGWRITERS WORKSHOP
Rock & Roll Hall of Fame
March 28th, 2001
by Mark Tyler
Jackie joined museum host and Director of Education MaryAnn Janosik in a morning workshop as part of the Rock and Roll Hall of Fame's Salute to Women's Month.
Jackie at the Rock And Roll Hall of Fame, surrounded by members of Styx and Bad Company.
Jackie's audience included several busloads of junior high school students. She discussed the necessity of learning how to protect rights to unpublished songs among other career topics. I was curious as to how Jackie would hold the audience's attention since her previous album was released ten years before these students were born. Jackie easily related to her audience speaking frankly about her knowledge of Rap music, March Madness and the current recording industry. Ms. Janosik asked Jackie questions regarding being a rock pioneer and being the first successful west coast female singer/songwriter. Audience questions soon followed. Here are some excerpts:
• First Song Jackie ever wrote - Why Do I Cry
• First Performance -Jackie's mother temporarily lost 3 year old Sharon (Jackie) and found her up on the stage performing with a concert performer. "This happened a few times" said Jackie.
• On Madonna -"I respect the contract she's had since the very beginning."
• On The Byrds - "You wouldn't want to see David Crosby early in the morning!"
• On favorite cover songs -"Annie Lennox/Al Green singing Put A Little Love In Your Heart, from the film Scrooged, starring Bill Murray.
• On Eminem - Jackie mentioned she liked some Rap music but felt there should be more of a balance between anger and hope. "Anger is big business," she said. "There needs to be more hope expressed."
• On Bette Davis Eyes - The song was originally presented to Rod Stewart before Kim Carnes!
Jackie played several cuts from her current You Know Me CD. She expressed interest in helping the planet, the theme behind Somewhere in America and preserving extended families and relatives, one motif in Vanished in Time. Jackie stressed the importance of copyrighting the exact arrangement of any song when registering a copyright. Bette Davis Eyes was originally written similar to Kim Carnes' version. However, Jackie's producer changed the arrangement to a honky tonk shuffle. Carnes was first recognized for the groundbreaking arrangement. Jackie received songwriter and publishing royalties for Bette Davis Eyes, something she does not receive for Put a Little Love in Your Heart due to an old contract. Her early record company had her under contract as a singer and as a songwriter and often tried to treat the two contracts as one.
From the beginning, Jackie's recording/songwriting output was astonishing, albeit confusing. There were songs given away to other artists, demo songs never released, demo songs improperly released as album cuts, Jackie's recordings of her own songs, Jackie's recordings of other artists' tunes, and last but not least, songs her record company forced her to record and release. Jackie explained this phenomena as a pioneer in the male dominated early-sixties music scene where she constantly broke ground. Several times in her career, she walked away. She left in the mid sixties to go to art school and in the last 20 years to raise her son and run a music and film production company.
Jackie led the audience in a sing along of several of her hits and they knew the music! After the workshop, almost the entire audience went up to speak with Jackie and to get her autograph. A high school aged chaperone came up to me and said "I attended today to be with the kids. I didn't know what to expect. However, Jackie is the most amazing person I have ever witnessed."
---
"…FOLLOWING A SHOOTING STAR…"
An Evening with Jackie DeShannon and Glenn Burtnik.
Rock and Roll Hall of Fame Museum
Jackie joined Glen Burtnik and Rock and Roll Hall of Fame Senior Public Programming Director David Spero on stage. She answered questions, told stories and sang songs. With Burtnik on piano and guitar, Jackie sang....Blind Faith's Can't Find My Way Home, Don't Think Twice, It's All Right, Bette Davis Eyes, Vanished In Time, You Know Me, Needles and Pins, When You Walk In The Room, Hungry Heart,Sometimes Love Just Ain't Enough.
Jackie mentioned that Bruce Springsteen and Miami Steve Van Zandt stopped by her house in the early 70's to hear unreleased songs she recorded with Van Morrison. She also recalled when she first saw Bob Dylan perform at Town Hall in New York in the early sixties but was unsuccessful in getting her record company to release a whole album of his tunes, not to mention release Don't Think Twice, It's All Right as a single, which later became a hit for Peter, Paul and Mary. Jackie expressed gratitude for working with a wide variety of great musicians, past and present, and thanked the audience for attending which included members of the bands Bad Company and Styx. Jackie ended the evening by saying "There's life before Britney!!"
---
BENEFIT FOR THE SEEING EYE
June 22, 2001
by Mark Tyler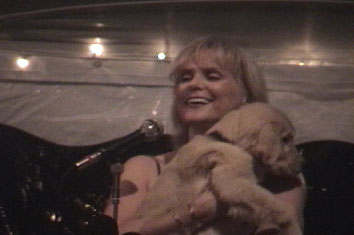 On this night in Morristown, New Jersey, I was thrilled to not only have an opportunity to see Jackie DeShannon perform her new song You're Here For Me but tour the beautiful property owned by the Seeing Eye (www.seeingeye.org) and meet the wonderful people who have perfected such a vital and important organization.
Jackie gave thanks to the Seeing Eye, a foundation which trains dogs to be the "eyes" for their blind owners, in her new CD booklet and mentioned to me that this was one of her most important events ever. She became interested in the Seeing Eye's activities after watching a profile on founder Morris Frank on television. I was thrilled to be sitting amongst the presence of Jackie and members of the Seeing Eye's Executive Staff.
Ms. DeShannon had the opportunity to meet a variety of people and even meet some of the Seeing Eye dogs. At the beginning of her song, she was given a very young Seeing Eye Dog named Pryia that she held throughout her performance. Her new song is both touching and beautiful and really captures the bond between a blind person and a Seeing Eye dog. Remarkably, Jackie wasn't distracted by Pryia, and didn't miss a note during the song. She hopes to record the song in the near future.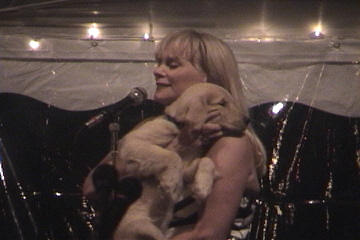 Please click here for more pictures of Jackie and Pryia, which were not used in the magazine.
You're Here For Me
Words and Music by Jackie DeShannon
© N.M.R Music/ASCAP

I know that you won't lose your way
And when you're close I'm feeling safe
A better friend I could not have
To guide me through the things I ask

Chorus
You're here for me
I'm here for you
The two of us together
Loving care
Through the years

You've taught me how to understand
To reach my goals, to make my plans
And with your heart and with your grace
You make this world a better place

Chorus

If I stumble, should I fall
It's your name that I will call
As long as you will stand by me
A brighter day I know there'll be

Chorus

The promise that tomorrow brings
You'll lift me up, you'll give me wings
And you won't let me stay behind
We'll take it one day at a time
---
Please click below for the index page for this issue.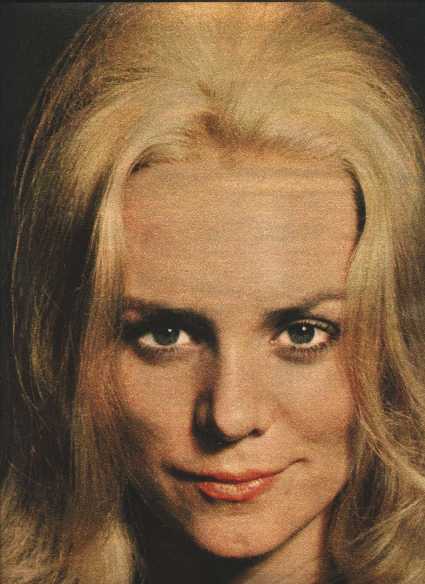 ---
Click on Jackie to return to page one.
---