The Songs of Jackie DeShannon
---
An occasional series of articles, reviewing Jackie's work as a songwriter, and looking at the many hundreds of recordings that have been made of her songs. This time we look at Jackie's biggest hit,
Put A Little Love In Your Heart.

Introduction
by Peter Lerner

The Songs of Jackie DeShannon has been a long running series in our newsletters. We changed the formula when Bill and I both added our comments to all the versions we knew of When You Walk In the Room. It was fun to do, across the Atlantic, and many of you told us you enjoyed it.
But when Bill asked me to tackle Put A Little Love In Your Heart I wasn't quite so keen. The song doesn't have as many memories for me, and there are lots of second rate, schlocky versions. But on 10th September, 2001, I buckled down to the task, pulled out some vintage 45s, and started work.
You know how songs run through your head. For most of the next day at work my brain was going…"And the world can be a better place…" And then I saw those planes hit America. And the song stayed with me.
As I was growing up through the 60s, I loved Jackie DeShannon's music. Her voice and her songs were so good, so right. I wanted nothing more than to see Jackie hit the Top 10 with one of her won songs. And when she did – in the States anyway, but not in the UK – perhaps I wasn't thrilled enough. I was at university, a bit clever, a bit serious. Bands like The Doors made the sounds you listened to. Girl singers sounded like Joni Mitchell. Jackie's song was a bit brash, a bit bubble-gum, a bit commercial. To tell the truth, it's never been one of my favourites.
After September 11, though, I know that Jackie hit it right the first time. It's just taken me 32 years to catch up. I have just listened to her singing Put A Little Love In Your Heart on The Definitive Collection EMI album. What a soulful voice she has; what a well-crafted song; what humane, moving words. And what a subtle, groovy sound.
I don't know which bits of the song are Jackie's, and which belong to her brother Randy (Raga) Myers, or which bits to Jimmy Holiday. But I do know it's a great, great song, and Jackie's version is THE BEST. 10 points! And will everyone in the world please listen to it…

PL: An echoing harmonica, a relaxed tempo, an assured production – and the sweet voice of Dolly Parton. Dolly sings those familiar words as if they mean something, which of course they do. Nice climax and doesn't outstay its welcome. 8 promising points.
WG: A nice gospel-style reading. Nothing groundbreaking, but enjoyable. Dolly brings out the meaning of the lyrics without sounding trite. 7 points.

PL: This German 45 has a picture of a cool hippie chick on its cover, one Linda G. Thompson. The music is very 70s disco, quite nice to dance to, OK in a quavery sort of 70s way. Perhaps a bit generous, but 7 points.
WG: This sounds rather cheesy to me. Poor production, standard disco arrangement, lacklustre vocals. It doesn't do anything for the song, and gets boring really quick. 4 points from me.

PL: Now here's a hearty pair of lungs, belonging to one-time Seeker, Judith Durham. Trying a bit too hard, methinks, with a sort of pseudo gospel feel which isn't quite there. No more than 5 points.
WG: Nice strong opening, sturdy voice. Nice gospel backing vocals. But rather pointless next to Jackie's version. 5 points.

PL: Another country sound now; it's harsh and the girl's voice is not very pleasant to listen to. Produced by Pete Drake, it's Becky Sue Wright. Nice name, but only 4 points.
WG: The steel guitar is tasty, but that's about it. Nice quick tempo. It could have been a good record with a better singer. 5 points.

PL: Do you want to hear a craftsperson at work? Brilliant, fascinating singing to the music of a piano-led trio. It's Ella Fitzgerald live in Nice in 1971. Wonderful. 8 points.
WG: This is certainly one of the most interesting interpretations of this tune ever recorded, complete with scatting. Ella is a master, and she can sing anything and make it enjoyable. But to be fair, she's a bit past her prime here, and this song isn't jazz, although she makes a strong case for it. 6 points.

PL: Some more piano, but this time pounding away behind a huge – well, chorale is the only word. Is this Aretha? No, it's Joan Orleans. Great gospely start, but there's nowhere to go, so it doesn't quite. 7 points if you're in the mood for belting.
WG: This would be very exciting to hear live in a church, with the big gospel choir joining in. Great voice, good, traditional gospel arrangement, well produced. Sung as if it was the gospel itself. 8 points.

PL: Ethereal reggae I would call this. Marvellously uncomplicated, just easy. Lovely sound. It's Marcia Griffiths. 8 and a half points.
WG: Not a bad take, with a new spin. Light and breezy as a sandy beach. Somebody bring me a piña colada! 6 points.

PL: I've got lots of records by Sandy Posey, with her brilliant Chips Moman Memphis/Country mix. I'd say this was recorded after her prime – nice little voice, but nothing special. 7 points in memory of some great songs.
WG: I am also a fan of Sandy's singing. But this is lacklustre and boring. Pretty voice, but no excitement at all. 5 points.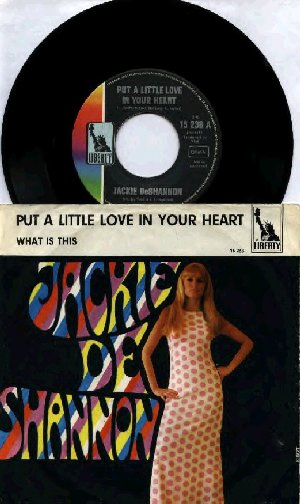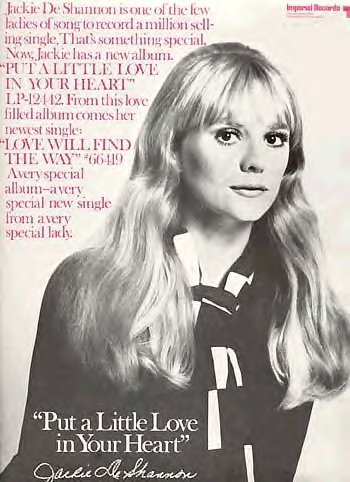 PL: Wow! The first male voice. This is brassy and stirring elevator music. Nothing wrong with it, just not my scene. 6 points for The First Collection.
WG: They ripped off Jackie's arrangement, but forgot the talent and passion. Pointless. 4 points.

PL:

Now is this Abba? Definitely European, slow and easy. In fact, rather plodding and predictable. Waste of a good song, really. It's the Gunter Kallman Choir, earning themselves 4 points.
WG: "And the Vorld will be a better place"…Where did you get this??? Is this on a novelty compilation? 3 points for the German accent.
PL: Hey, this is dated! But nice! Billie Joe Spears has a sassy southern voice and a direct sort of style. The jingly sounds puts you off – 6 points, and record it again with a decent band, Billie Joe.
WG: This is pretty bad. This was not a good choice for Billie Joe to record. Rinky-dink is the word that comes to mind. 4 points.

PL:

Now here's a change of style. Cool intro, easy pace, sultry soul voice. David Ruffin, mastersinger of Motown. David sings like an acrobat. Not quite a classic, but…Nice. 7 points.
WG: This works for me. I think Jackie would like this version, and it sounds like it was written for him. 8 cool points.

PL:

This one's from the UK – you can tell from the first few bars. Sexy Clodagh Rodgers with that sharp UK 60s sound. Somehow Clodagh can't quite get into the song, but you'll have to believe me, Bill, that the album cover is worth a second look. 5 points.
WG: This sounds to me like the true definition of a "cover" record – someone trying to steal Jackie's hit by making a sound-alike version. But she failed. 5 points.

PL: Donna Rhodes

is a young woman with a nice voice. 19 years old when she recorded this, in the 70s I would guess. What happened to her, I wonder? The whole arrangement is a bit unadventurous, though. 6 listenable points.
WG: Another lifeless country version. I think she listened to too much Sandy Posey. 4 points.

PL:

I love this! What a great group Martha Reeves and the Vandellas were! Martha sings it just like she means it, effortlessly but brilliantly. Jackie must have had this sort of arrangement, slightly gospel, plenty of soul, in mind when she wrote the song. 9 soulful points.
WG: I agree. Nice blend of gospel and R&B. And what a great voice. The words and meaning come through loud and clear. 8 points.

PL:

So you like noisy grunging 70s style punk? Well, the Circle Jerks are certainly having fun. It speeds up in the middle. I'll give it 5 points for cheek. Bet Bill's going to give it more than that…
WG: They do seem to be having fun. So much so that the singer even laughs in the middle of it. Sounds like a toss-off lark. When those guitars kick off the opening, I have high expectations, but it never quite lives up to the promise. It does have a certain charm though. 6 points for rocking.
PL: Oh dear, now it's more elevator music. Norrie Paramor gives it a tight orchestration, but why, I ask myself. Norrie, incidentally, produced lots of UK hit records in the 60s for people like Cliff Richard and Helen Shapiro. 5 fairly average points for this, though.
WG: If I actually heard this in an elevator, I'd probably get pretty excited. But I don't need to hear it in my home. 3 points.

PL:

Now is this the theme from a cowboy movie or is it Duane Eddy going through his rumbling paces? Well, it's Duane. A pleasantly menacing sound. Then the 45 sticks (sorry Bill.) 6 points without the repetitions.
WG: Duane Eddy made some great records. This isn't one of them. Why the strings? Where is the fierceness in the guitar playing? I couldn't surf to this…4 points.

PL:

Sometimes dreadful records become cults and get put on "world's worst" compilation albums. Seven years old, can't sing, can't hit the notes, Marc Copage is worse than that. Why, I ask myself. Presumably he's around 30 now. An apology would be nice. 2 points for the reasonable soul backing.
WG: I used to love my Rodney Allen Rippy album when I was a kid. I guess this is the same idea. Good for a laugh. One laugh and 2 points.

PL:

I never liked the Dave Clark Five very much. Crude thumpers compared with those oh-so-subtle Merseybeat groups. And I didn't like them covering Jackie's song and getting into the UK charts with their version. But, 30 years on, it's not bad at all. And hey, Jude, dig that long fadeout. 6 robust points.
WG: I like this version a lot. It rocks, and it's well done and well meaning I think. If anyone had to scoop Jackie's version, I'd much rather it be this than some copycat girl singer. 8 points.

PL:

These people are smoothies, Fifth Dimension style. Actually it's The Spurrlows. Girl singer taking the lead, jazzy, fast brassy, but a bit predictable. 6 points from me.
WG: Well, they sure had their coffee before recording this! It almost sounds like the Chipmunks it's so fast. The brass can't quite keep up. Pseudo-jazz choir arrangement, but too Muzacky. 5 points.

PL:

Now here's another standout. Dorothy Morrison led the Edwin Hawkins Singers. Solo here, produced by Leon Russell, this is an inspirational gospel sound. With bells and lots of contrast. Should have been a mammoth hit. 9 points.
WG: Very cool mix of styles, with a slow-burn build-up. Oozing conviction, she sings the words as if they are forcing themselves out of her. 8 points.

PL:

This one was a hit. Annie Lennox and Al Green sound to me like two clever singers trying to outdo one another. Yes it's clever. But it does go on a bit. 5 points for boosting Jackie's bank balance.
WG: I was very excited when this record was released, but was disappointed in the result. Lennox and Green were never in the same room together, and it shows. Despite the soulful arrangement, the performance lacks life. 6 points nevertheless, for resuscitating the song.
PL: A strange and pointless instrumental with distorted instruments and voices. Why would anyone want to buy this United Artists 45 by Uno, Dos, Tres? Well, I suppose I did, just so that you could share this review with me. 3 points. WG: Listen again, Peter. This is the surf version that Duane Eddy struck out on. Not great, but fun in the way that the 60s beach flicks are fun. 6 points.

PL:

This sounds like what we in the UK would call a pub band. Good if you're there watching them, but doesn't quite come off on record. The 3rd Avenue Blues Band no doubt think they're funky, and in their journeyman way, with their sax and trumpet sound, they are…slightly. 5 points.
WG: Forced blues. This is an average performance, and the treatment doesn't really fit the song. And what a strange break in the middle. I thought it was a new song! 4 points.

PL:

Groups like the Association and Harper's Bizarre pioneered "soft rock" at the end of the 60s, with lots of ba-ba-ba-ing and cleverness. This is The Cuff Links. Quite sweet, quite clever, very dated. 5 points.
WG: This sounds like an old Coca-Cola commercial. It works only as background music. 4 points.

PL: Samantha Jones

recorded lots of good things in the UK in the 60s and 70s. She sings "Put A Little Love" in a nice girlie style, with a well thought out arrangement by Mark Wirtz. Builds nicely. 6 points.
WG: The bongos are a nice touch. Nothing else impresses me though. I find her voice rather irritating. 5 points.

PL:

Here are some more people who know exactly what they are doing with this song. Complex rhythms, together vocals. This is The Isleys in 1972, on top of the world, sailing through. 8 capable points.
WG: Once again, the R&B artists nail the song. This may be the best cover version of this song. The transition into the chorus is so smooth and brilliant. And it's clever how they quote Jackie's other big hit on the fadeout. This rivals Jackie's own version! 10 points.

PL: Sandy Nelson

had a few instrumental sellers as a drummer, on Imperial in the early 60s. In the latter part of the decade as a bandleader he built a Booker T-style groove. 6 competent points for this.
WG: Sorry. Just sounds like more elevator music to me. 3 points.
PL: Think of your fellow wo-man…This voice is brilliant, elastic, joyful, fun. Breaking into jazz and scat singing, then reggae. Wow! Laura Love is sensational. 9 points from me. And I know nothing at all about Laura. Bill, you sent this to me. Tell me more. Why isn't Laura Love an international megastar?
WG: Laura has released quite a few records over the years on small labels, and is well known on the "women's music" circuit. She scored a major-label deal a few years ago, but has yet to break through to the masses. This is a lively version of Jackie's tune, re-tailored to fit Love's style. I like it better now than when I first heard it. Strong voice, well played, fun, in a world-beat style. 7 points.

PL:

Talking of international megastars, Cilla Black is a big game show and chat show personality now in the UK, her Merseybeat days behind her. Cilla was blessed with a big, raucous voice, which is thankfully kept in check here. Doesn't do a lot for me. 5 points.
WG: Lovely voice. The tempo drags a bit. Decent 60s arrangement, but nothing special. 6 points.

PL: Gracie Rivera.

Very 70s, light voice, over-arranged. Another day, another song perhaps, Gracie. 5 points.
WG: Sounds like an Olivia Newton-John disco reject. Harmless but pointless. 5 points.
• So the winners this round are The Isleys with an impressive 18 points, followed by Martha Reeves & The Vandellas, and Dorothy Morrison with 17 points apiece.
---
---
Please click below for the index page for this issue.

---
Click on Jackie to return to page one.
---
---