The Songs of Jackie DeShannon
An occasional series of articles, reviewing Jackie's work as a songwriter, and looking at the many hundreds of recordings that have been made of her songs.

This issue's column is devoted to the first in a series of JDSAS archive compilations we call Hits of the Genius: The Songs of Jackie DeShannon. Each collection will include songs written by Jackie and recorded by other artists. Volume 1 is a collection of '60s rock versions, including garage rock, British Invasion, folk-rock and some R&B and beat pop. Each volume can be ordered exclusively from the JDSAS for $15/£10, from the JDSAS addresses on page one. As usual, all proceeds go toward the cost of printing and mailing this newsletter.
---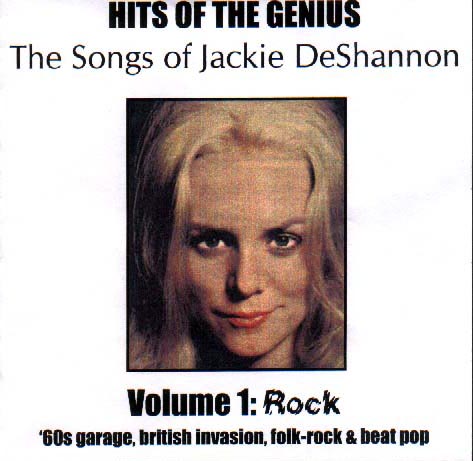 ---
1. Hellions - Daydreaming of You
WG: A peppy, British-Invasion style opener. Nice arrangement and production. 7 points.
PL: What a lively, jangly start to the CD. I always think of this as a girls' song, but this is classy. Did you know that this Birmingham (UK) band featured Dave Mason and Jim Capaldi, later in Traffic? I agree, 7 points.

2. Authentics - Without You
WG:

This is a very powerful rocker, which was left unreleased until a few years ago, when it was included on a compilation of recordings featuring Jimmy Page on guitar. Should have been a huge hit, and it really fleshes out the idea of Jackie's demo version. 9 points.
PL: This is a rare track indeed. The song sounds as if it was written for the Searchers - what a great riff. Goodness knows why it was never released. 7 points from me.

3. Irma Thomas - Breakaway
WG:

Here is a familiar song, from one of the premier American soul singers. Excellent full production, and achieves a good mix of New Orleans soul and girl-group pop. Really gets the feet moving! 9 points.
PL: Irma's got a super soul voice but this is very pop - a bouncy, handclapping dancer, 20 years ahead of Tracey Ullman! 8 points.

4. Liverpool Five - Too Far Out
WG:

Blasts right off with punky, echo-y electric guitar, and a raspy, urgent vocal, and never lets up. Very different from Jackie's Dylan-esque folk demo. 8 points.
PL: They sound British but they aren't. This steams along like a train and puts me in mind of the Yardbirds. Love it! Is there a Liverpool in the USA? 8 points.

5. Striders - When You Walk In the Room
WG:

I stated my fondness for this track before, and my opinion hasn't changed. Sounds like a bunch of kids having a blast playing a great tune, with the Energizer bunny on drums. 7 points.
PL: Yes I like it too, but they do lose the plot a bit in the middle and they take the song very fast. And what's the drummer on? 6 points.

6. Raga & The Talas - My Group and Me
WG:

Here is Jackie's little brother, Randy Myers, in his alter ego of Raga, joined by a garage band on a song Jackie wrote and produced. Conjures images of nehru collars, granny-glasses, long hair, and Woodstock. 8 points.
PL: Were you at Woodstock, Bill? This sounds very west coast to me, and would have fitted in well on an early Love album. You don't often hear Jackie songs like this. 8 high in the sky points.

7. Ashes - Is There Anything I Can Do
WG:

A truly great song. The music and performance capture perfectly the conflicting emotions of caring, urgency and angst in the lyrics. Sounds tailor-made for the Mamas and the Papas. A classic. Why wasn't this a mammoth hit? 10 points.
PL: Oh yes. Close to perfection - just wish I could hear Jackie's demo. More west coast sounds, full of those DeShannon guitar tricks and key modulations. 9 points from me. Play it again!

8. Byrds - Don't Doubt Yourself Babe
WG:

Another classic, this time a familiar one. Hearing Jackie's hushed acoustic demo was a revelation after hearing this famous version so many times. A jangly folk-rock classic. 9 points.
PL: The Byrds on top form - wish they'd done some other of Jackie's songs. Is this the first time I've noticed the Bo Diddley beat on the fadeout? 8 points.

9. Joe & Eddie - Depend On Yourself
WG:

I don't know much about Joe & Eddie, but they sound to me like a soulful folk-rock duo, sort of a hipper Righteous Brothers. This song is real hand-clapper; you can picture them singing to a group of happy, hip college students in a 60s teen flick. 7 points.
PL: I see Joe and Eddie in the same folk club or Hootenanny where pre-hitmaking Simon and Garfunkel sang last week. Innocent days. Great guitar riff again (did Jackie think of the riffs first and then compose the songs?) 7 points.

10. The Cake - Baby That's Me
WG:

I'll take The Cake!!! One of the best versions of a DeShannon song ever, Jack Nitzsche's production is Spector-esque and gorgeous. Simply magical. 10 points.
PL: I love the sound and the mood. I'm just a little unconvinced by the lead singer's voice. Just imagine LaLa Brooks of the Crystals singing this...... 9 points nevertheless.

11. Mike Sheridan's Lot - Don't Turn Your Back
WG:

One of Jackie's best songs, given an energetic, electric, guitar-driven performance. 8 points.
PL: A thumping British beat. This didn't stand a chance, hit-wise, with Jackie's version also on the market, but hey it's not at all bad. 6 points from this Brit.

12. Olivia Newton-John - Til You Say You'll Be Mine
WG:

Here's a very young Olivia recording her first single as a contest prize. Whoever was in charge of picking the material did a bang-up job. This is a very cool garage-rocker, with Olivia's sweet, innocent voice floating on top of a raw combo arrangement. 9 cool points.
PL: No, I'm not as keen on this as you are. Tinny sound and ONJ's voice struggles against the backing. Major rarity, however, so 6 points for finding it.

13. Doug Gibbons - I've Got My Tears To Remind Me
WG:

This is as close as we'll get to the vintage Rolling Stones recording one of Jackie's songs. Co-written with Jimmy Page, this is a mid-tempo, minor-key, menacing performance. 9 points.
PL: Yup, Doug is familiar with the works of M.Jagger, and menacing is the word. Brilliant arrangement; a storm building, and breaking during the last few bars. Fab, as we used to say. 7 points.

14. Evie Sands - I Was Moved
WG:

Teenage Evie Sands' first record, this is a great, atmospheric pop-rocker. Raw and smooth at the same time, and a perfect fit for Evie's smooth, soulful vocals. 8 points.
PL: Back to a Spector sound, with Evie's soul shining through. Great song, great melody, great performance. The backing is a bit muddy but 8 great points.

15. Delaney Bramlett - You Have No Choice
WG:

Upbeat, danceable rocker, with strings and orchestra prominent along with Delaney's grainy-sweet voice. Another shoulda-been hit. 8 points.
PL: Jackie's work with Delaney needs more attention. He has a wonderful pop voice, and this is another lost treasure. Brilliant 60s pop. 9 points.

16. Epics - There's Just No Pleasing You
WG:

It's easy to imagine The Beatles recording this energetic rocker. In fact, it sounds very much like them. It's hard to keep from dancing to this one. 7 points.
PL: This is one of the most in-demand DeShannon covers. It's very well done. I guess there were just too many good records around at the time, because I don't even remember this getting radio play over here. The middle 8 is very Beatle influenced, as you say. 8 points from me.

17. Peter & Gordon - Colour Blue
WG:

One of the few psychedelic rock versions of a DeShannon song, this conjures up images of go-go dancers, bright colors and jerky camera work. 7 points.
PL: I have this image of P&G as perennial wimps. This is something of a mess, but a nice mess which brings a smile to your face. 6 points for effort, and there's certainly a lot of that.

18. Bob B. Soxx & The Blue Jeans - I Shook the World
WG:

Virtually identical to Jackie's demo version, except this time Darlene Love moves from backing vocalist to lead. A great R&B stomper, but doesn't quite live up to Jackie's own killer performance. 7 points.
PL: Whew. What a performance from Darlene. You're right Bill, this does stay close to Jackie's demo, and Spector the producer is restrained, apart from the trademark handclapping. A Darlene sings Jackie album would be a treat. 9 points from me.

19. Raga & The Talas - For Old Times Sake
WG:

Randy Myers on the flip side. More of the same hippy guitar rock, with Jackie on backing vocals? 8 points.
PL: Definitely the B side, and methinks in need of a tad more rehearsal time. Nice to hear big sister on the backing vocals. A generous 6 points.

20. The Critters - Children and Flowers
WG:

A sweet, mellow rendition of this song. In my opinion, the best recorded version. The production values are professional, and the performance isn't cloying. 7 points.
PL: We used to call this sort of sound soft rock. Nice listenable version of a much-covered (but not my own favourite) DeShannon song. 6 pleasant points.

21. Susan Maughan - Don't You Love Him Too Much
WG:

A slice of urgent girl-group style hard pop. She has a pretty voice, and enough guts to rise above the pack of bland 60s girl singers. And the arrangement really rocks. 8 points.
PL: This is a hard to find 45. Susan did the UK hit of Bobby's Girl then struggled to keep a place in the charts. This is fun; she sings well, nice arrangement. 7 points.

22. Paramounts - Blue Ribbons
WG:

A great version of this song by a group that would later become Procul Harem. British-invasion style rocker with prominent string arrangement that doesn't detract. This is one of DeShannon/Sheeley's catchiest and most enduring melodys. 8 points.
PL: Very commercial, must have been a UK nearly-hit. Good, good, good. 7 points.

23. Joe & Eddie - With You In Mind
WG:

The boys are back with an uptempo take on the Marianne Faithfull hit which recasts it as an urgent folk-rocker. In an updated version, this could be a big alternative rock hit today. 8 points.
PL: Gospel-folk I'd call this. A real toe-tapper with nicely textured vocals. Yep, another solid 7 points.

24. Ronettes - He Did It
WG: 8 points.
PL:

What a performance from Ronnie (Bennett as she was then, not having met Mr S). Although you wouldn't tell from this record, which sounds decidedly Spectorian. This is a girl group classic to my ears, even before the harmonica comes in and takes you by surprise. I'm not giving any 10s today but this is worth at least 9 points.

25. The Crickets - Right Or Wrong
WG:

Better known in Bobby Vee's version, The Crickets come closer to capturing the influence of Buddy Holly on Jackie's songwriting. It's as if Buddy took a vacation from rock and roll heaven to join his old bandmates on this tune. 8 points.
PL:8 points.

26. Rick Nelson - Thank You Darlin'
WG:

Here's Ricky giving his energetic best on a song written by neighbor girls Jackie and Sharon. Not his best record, but still worthy. 7 points.
PL: Rick was coming to the end of his Imperial contract when he recorded this and he rushes at it like he can't wait to leave. Slower would have been better. 6 points.

27. Eddie Hodges - Would You Come Back
WG:

A somewhat lightweight but fun popditty, saved by an energetic performance and full production. 6 points.
PL: Eddie always struck me as a nauseating little chap with a too-high voice. This doesn't change my view of him, but it's an OK production of an OK song, which Jackie probably knocked off before breakfast. (Doesn't knock off mean something else in the States? I wasn't suggesting that Jackie and Eddie…) 5 points.

28. Bob B. Soxx & The Blue Jeans - Jimmy Baby
WG:

Darlene Love taking the lead again as she searches frantically for her sweetheart before he gets shipped off to war in this angst-ridden rocker. Would be perfect if it weren't for Jackie's amazing, raspy, revelatory demo version. 8 points.
PL: This song is deep and powerful, almost like a traditional folk ballad. Darlene doesn't get inside it like Jackie does on her demo, which must be one of the greatest unreleased tracks ever, anywhere. But this is OK to be going on with. 7 points.

29. Dave Clark Five - Put A Little Love In Your Heart
WG:

Somewhat over the top, but this 1969 British cover version does rock. It avoids the hippie-dippiness that this song often inspires as well. 7 points.
PL: I never liked the DC5 very much, coming from northern England myself, they seemed like a bunch of southern jessies. But this is well produced, not as thumpy as they were wont, and the 60 second fadeout would have been admirable had the Beatles not thought of something similar first. All you need is… 7 points.

30. 31st February - The Greener Side
WG:

An obscure DeShannon composition by an obscure group. This is a slow-burning folk-rocker with a funky bassline. I'd love to know more about these guys. 8 points.
PL: Another real rarity. It doesn't quite get there for me, perhaps the song isn't strong enough, but it's a pleasant listen. 6 points.

31. Peter & Gordon - A Boy With Nothing
WG:

More folk than rock, Peter & Gordon melded two otherwise unrecorded DeShannon compositions (Still Around, A Boy With Nothing) together, and came up with this acoustic guitar-and-strings anthem of survival. A fitting close to a great collection of songs. 8 points.
PL: I take back what I said about P&G. This is well arranged and inspirationally sung. Had it been put on a 45 instead of lost on an album, it could well have been a hit and revived the lads' flagging career. Like it! Great conclusion to a first rate CD, Bill. 8 points for the song, and 10 points for the compilation!
---
Please click below for the index page for this issue.

---
Click on Jackie to return to page one.
---
---