music and memories
---
Sweet Sherry: The Early Recordings 1956 - 1962
by David Scott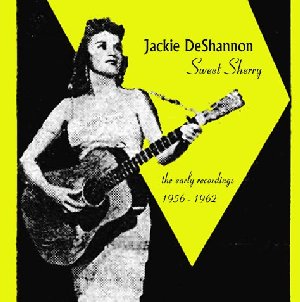 The CD booklet for EMIís 1994 release What The World Needs Now Is Jackie DeShannon: The Definitive Collection was a revelation to me. Here was a list of twenty-some singles, all released prior to the familiar Liberty/Imperial albums on obscure, exotic labels such as Mar-Vel, Gone, Sand, and Fraternity. I figured I was as likely ever to hear this stuff as I was to hear Aretha Franklin sing the male lead in Turandot.
Of course, that was before I knew about those wonderful folks at the Jackie DeShannon Appreciation Society (or the 1999 Grammy Awards for that matter). So, I couldnít be happier with the JDSASís latest release, Sweet Sherry: The Early Recordings 1056 -1962, which features these previously uncollected non-LP singles (both a and b sides, naturally), as well as several unreleased tracks from the same era.
Arranged chronologically, the set provides an insightful overview of Jackieís development and versatility as an artist. The Mar-Vel sides feature a very young Jackie ~ billed as Sherry Lee, Miss Country Music ~ singing twangy honky-tonk true to her Kentucky roots. I was immediately struck by how her double-tracked vocals on Baby Honey called to mind Mary Ford on How High The Moon. Jackie a/k/a Sherry is next paired with Mar-Vel artist Shorty Ashford for the duet Iím Crazy Baby. (And speaking of crazy: Mar-Vel was one of the music bizís first true indie labels, started in 1949 by Hoosier Harry Glenn, who continued this passion for nearly two decades by peddling his records town-to-town out of a car with loudspeakers on top),
A year later Sherry Lee had gone to Gone and was recording as Jackie Dee. These sides ~ Iíll Be True and How Wrong I Was ~ sound like the radio fare of their day, with How Wrong sounding eerily like a lost page from the Patsy Cline songbook. I love the peppy True if for no other reason than it reminds me of one of my all-time favorite musical moments from The Flintstones ~ Ann-Margrockís I Ainít Gonna Be Your Fool No More.
Up next is Jackieís debut for Liberty ~ the Buddy Holly love letter Buddy and the novelty dance tune Strolypso Dance (The Stroll + CalypsoÖget it?), which always sounds as if its channeling Sam Cookeís Cupid but wins points for actually being rather poignant; both are the first songs on the set to carry DeShannon songwriting credits. These tracks should be familiar to most Jackie-philes, but the real find on this stop is the unreleased I Need Loviní, a red-hot groover highlighted by Jackie growling "well uh-huh-huh" in a snarl so raunchy that it could singe the fringe on Elvisí white jumpsuit. And she ends the track in a whisper so sexy that you suddenly understand why the thing got shelved.
Taking a brief liberty from Liberty, Jackie next recorded Just Another Lie for Fraternity as part of a group billed as The Cajuns. (Ms. D gets listed here, in good Creole fashion, as Jacquie Shannon). Lie is another of the setís true revelations: a deep blues number, Jackieís aching vocal is a spine-tingler that deftly swings from fragile whimper to fierce growl and bends notes as if our girl had been singing the blues all her life. Astonishing! The track is backed by an instrumental, Cajun Blues.
Jackieís date with the blues continued on two sides for P.J. (later reissued on Sand) ~ the King Creole classic Trouble, and Lies. The year was 1959, and the tracks could have been huge in their day if this were a perfect world. And, for the record, Jackie whoops Elvisí butt on Trouble!
Edison International was the next label to offer Jackie a home, and the set offers six tracks from those sessions. So Warm (version #1) kicks off this segment, and Jackie fires off this self-penned raver like a woman possessed. (The yowling "this is how I feel" refrain shoots chills straight down the spine!) The record was recalled (so warm? more like too darn hot!) and tamer version #2 was released in the next year: shame on them for dousing the flame! Oddly enough, however, version #2ís b-side, the bittersweet, bluesy I Wanna Go Home, is far superior to #1ís proto-50ís girly-ballad, A Young Girlís Prayer, both DeShannon originals. The final Edison International a-side is another self-penned rockabilly raver, Put My Baby Down. It is coupled with The Foolish One, where Jackie sings to nice effect in a husky, lower register.
The remaining tracks find Jackie back at Liberty where she hones her signature sound, blending folk rock, the blues and string-driven R&B. Fans should be familiar with Tech Me, Lonely Girl, Think About You, Just Like In the Movies, Goffin/Kingís Heaven Is Being With You, I Donít Think So Much Of Myself Now, Dancing Silhouettes and Summertime, although the last selection is presented in a wonderful unreleased version that gains quite a bit from its R&B propulsion. Real surprises here include the ultra-rare Thatís What Boys Are Made Of, the unreleased Nobody But You (a call-and-response gospel rave-up clearly inspired by LaVern Bakerís Saved); the gutsy vocal on I Wish I Could Find A Boy and I Wonít Turn You Down; the wildly rocking Baby (When Ya Kiss Me), with Jackie tossing in goofy, nearly disinterested "la la laís" and "my my myís" to put things delightfully off-kilter; and Ray Charlesí Ainít That Love (likely from the shelved Hits of the Genius sessions) and two other homage-to-brother Ray numbers Iíll Drown In My Own Tears and Guess Who. The set brings us full circle with Jackieís lovely read on the country standard Faded Love, her first chart hit that opened the floodgates for the waves of hits to come.
Sweet Sherry is one more testament to Jackie DeShannonís genius. That she, over the course of six years, could master rock, pop, blues and R&B is astonishing. That she sings like a seasoned professional at such a young age and then only manages to get better and better is cause for celebration.. Listening to Jackie deftly dance her way through the principal pop genres of the day is a true pleasure, especially given the superior sound quality of much of this disc. Looks like the only thing she has left to conquer, then, is Nessun Dorma.
---
For details of how you can obtain your own copy of this and many other exclusive Jackie DeShannon Appreciation Society CD's, please go to our JDSAS Offers Page.
---
---
Please click below for the index page for this issue.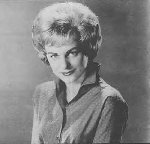 ---
Click on Jackie to return to page one.
---