music and memories
Jackie...Plus
Rhino Handmade RHM2 7832
---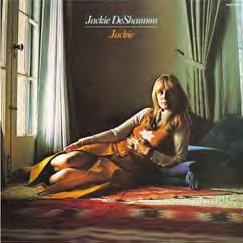 Rather than an ordinary review, we decided to "discuss" this release in a three-way conversation between William George, Peter Lerner and Mark Tyler.

Paradise:
William George: This John Prine song sets the tone for the entire album. Laid-back, evocative of the country, full of country and soul. Prine's original version was in waltz tempo, but Jackie takes it in 4/4, making it more accessible. She also cuts out one verse. This was also recorded by the Everly Brothers.
Peter Lerner: I love the Everlys' version and it's something that they and Jackie both come from the same part of Kentucky. But Jackie really makes this super song her own. It's as good as anything she's ever done.
Mark Tyler: Nice follow-up in theme to West Virginia Mine and the screenplay Jackie mentioned that she was going to write in the early seventies to draw attention to the Appalachia coal mining crisis. Jackie makes John Prine's song her own. My relatives are from West Virginia area and this song captures the spirit of Kentucky and sets the tone for Raze on the YOU KNOW ME CD.

Heavy Burdens Me Down:
WG: Courtesy of the songwriters who brought us Son of a Preacher Man, comes this soul-drenched tune. Jackie is at her most raw and soulful here. But I must confess I've never completely understood what they lyrics are about.
PL: Well Bill, you've said it all. Nothing to add. I think I might have understood the lyrics in '72 but that was a long time ago!
MT: Jackie is singing the song from the point of view of the characters. Notice how there were several resting places mentioned, and several mothers as well. The title harkens to the early seventies when HEAVY was a popular word. It has a nice Memphis feel. Having bought the Jackie LP in 1972 when I was 12, I must admit, I didn't get it either!

Brand New Start:
WG: I love the lyrics of this tender ballad, and it fits Jackie's voice like a glove. She makes it sound like she wrote it herself. And the Memphis Sound prove they can play any style and make it work.
PL: The transfer to CD has brought out qualities in this lovely song with its tumbling strings, that I hadn't noticed on the original vinyl. Jackie sings it so skillfully, makes it sound easy.
MT: I agree, Jackie knows how to interpret a song, and here she gives it her all.

Only Love Can Break Your Heart:
WG: Jackie delivers the definitive version of this Neil Young classic. Even my friend who is a fanatical Neil Young fan agrees. Beautiful, loping, rhythmic arrangement, with Jackie at her vocal peak. Should have been a monster hit.
PL: The accordion makes it for me - it's a fabulous track, one I've always loved.
MT: I absolutely love this song, how could Atlantic be so ridiculous to waste this song as a B side to Paradise? It's less than two minute length for commercial airplay, but a classic nonetheless. So much better than Neil Young's version.

Laid Back Days:
WG: Here is Jackie in spreading her musical wings. This freeform original composition allows the Memphis musicians to really show what they've got. You can feel the magic in the studio on this track. It builds to a climax that oozes freedom.
PL: Wow. I've tended to dismiss this as a bit of an album filler, before now. How wrong I was. What a brilliant piece of teamwork, singer, musicians, arranger. You should have listened to it, Peter! Wow.
MT: The first time I heard this, I said "You go girl!" because although Jackie can sing anything, I personally like her rock and roll music. If record labels would have given her this freedom from the beginning and someone to mentor her like a John Hammond, she would have been a huge rock singer. However, Two top five hits in the century's top 100 hits of all time and a song that stayed at #1 for nine weeks all over the world is a feat in itself.

Full Time Woman:
WG: Another soulful ballad with great lyrics. The song selection on this album never ceases to amaze and impress me. Jackie's vocal is heartbreaking.
PL: Once again, the power of the remix. I used to prefer Irma Thomas's very straightforward reading of this song. Now I see how subtle and clever Jackie's version is.. I just want to hear it again....
MT: This song is not as great as Jerry Wexler says, but is pleasant nonetheless.

Vanilla O'lay:
WG: This DeShannon original evokes hippies dancing around a beach campfire to me. It must be a beach in Jamaica, since a steel drum band joins in the fun. Several artists have tried to cover it, but only Jackie has pulled it off successfully.
PL: Yes Jamaica (it says so in the liner notes, Bill). Knocks spots off the M. Faithfull version. Well laid back.
MT: Nice song musically and lyrically similar to early Olivia Newton John. I bought Jackie's 1960's singles and JACKIE was my first album purchased. One day, Vanilla O'lay came on the radio (on the station that I eventually was a DJ) and i told my sister "The Little Ole Lady Lady Lay Let her Lay Low" is a stupid title (not knowing it was Jackie) and you can imagine how embarrassed I was when I purchased the JACKIE album later that year.

Would You Like To Learn To Dance:
WG: How can a song be so heartbreaking and so optimistic at the same time? Steve Goodman achieves this with possibly his best song. And Jackie knocks it out of the park with her moving performance. The harpsichord adds a nice baroque touch.
PL: Bill, again you've said it. Why waste words? What a song, what a performance!
MT: This song is a masterpiece, especially Albhy Galuten's harpsichord. One of my all time favorites.

I Won't Try To Put Chains On Your Soul:
WG: Jackie at her most soulful. She pulls this straight from her gut. The background vocals by The Sweet Inspirations add the icing to the cake.
PL: Jackie sings Donna Weiss. Assured, accomplished, wonderful Memphis soul.
MT: I agree with you both!

I Wanna Roo You:
WG: For my money, Jackie improves this Van Morrison song, which he recorded in a more rustic arrangement on his TUPELO HONEY album. Reggie Young's guitar circles all around Jackie's vocal, creating a duet. The organ whirrs a Scottish jig underneath. A very joyous and celebratory performance.
PL: Bill, this is as near to raw sex that you'll find on a record. When Jackie sings "I wanna ruin you tonight", you know, I could imagine myself there. Joyful, sexy, irresistible!
MT: The lyrics are better than the music on this one but I like Jackie's raw vocal performance.

Peaceful In My Soul:
WG: A beautiful DeShannon original, this song evokes peacefulness and serenity, and again conjures up a rural paradise. This sounds like the proper end of the album to me, and serves as a bookend with Paradise.
PL: If the previous track was the seductive Jackie on the front cover of the album, this is the outdoor Jackie on the back cover. Captures the southern country-meets-soul feeling perfectly.
MT: This is the prettiest song Jackie has ever written/recorded. Just think, she wrote it on the same day as Salinas and Anna Karina. The acoustic guitar is as beautiful as the lyrics. I think Jackie plays on this one. (Ed. note: Jackie plays acoustic guitar on Laid Back Days, Vanilla O'Lay, I Wanna Roo You & Anna Karina.)

Anna Karina:
WG: Sort of a coda to the album, this is the hardest-rocking song in the collection. Distorted guitars and honky-tonk piano push Jackie from underneath. Her voice sounds like she's been singing all day, and she just lets go, rasp and all. To my ears, this album was Jackie's vocal peak. She never sang with more abandon and more soul than she does here.
PL: This comes on like a Stones song, for heaven's sake. Jackie having fun, and letting us know it.
MT: This is my favorite on JACKIE. Don Johnson (of Miami Vice fame) once recorded an odd version of it. Jackie's passion for foreign films came to play. Like Holly Would and Bette Davis Eyes, it's refreshing to hear a song about a woman, from the female perspective. I wish Atlantic had picked Peaceful In My Soul, Anna Karina, Would You Like To Learn To Dance and Only Love Can Break Your Heart as A-side singles.

When I'm Gone:
WG: This is my favorite of the "new" tracks. The somewhat obscure inspirational lyrics and Jackie's emotive performance give me real sense of peace. I play this one over and over and over. The musicians are unknown, but it sure sounds like the Memphis guys to me.
PL: It's a sort of foursquare song, to my ears, a little like Let It Be, but none the worse for that. So who wrote it?
MT: Here is where I deviate. This is one of my least favorite songs recorded by Jackie ever. The song just kind of plods along leaving no impression, sorry.

Drift Away:
WG: According to Jackie, this is the original version of this song. Dobie Gray had the hit with it, while Jackie's version stayed in the can for thirty years. Finally the world gets to hear it. The verdict? I'd say it lacks the magic that Gray's hit version had, but this still cooks along and defies you not sing along. It's just a great song, period.
PL: Well there you are, I love it. I've been waiting those 30 years and am no way disappointed. Understated in a Jackie way but heavens, we don't all have to belt songs out like Mariah Carey.
MT: To further exemplify Jackie being way ahead of her time, currently this week, Drift Away is on the nation's top 5 singles list with a new version by Uncle Kracker & Dobie Gray (teamed up). Jackie's version lacks something and probably wouldn't have been a huge hit. I am not keen on the way she pronounces the word "away."

All The Love That's In You:
WG: A Jackie original (with Jorge Calderon) this sounds more like a Van Morrison tune to me. Not a bad song, but my least favorite of the collection. The arrangement is a little too "vaudeville" for me.
PL: Like an outtake from NEW ARRANGEMENT to my ears, more so than the next track - clever and intricate.
MT: I like this pleasant song; in some ways it reminds me of a Beatles melody, or Brighton Hill. Very catchy.

Speak Out To Me:
WG: Originally the b-side to Sweet Sixteen, this is a new mix of this song. A slow-build mid-tempo rocker, this sounds more L.A. to me than Memphis, looking forward to Jackie's work on NEW ARRANGEMENT.
PL: Improved by the remix. An un-Jackie like song but nice to hear.
MT: This is the best song on the whole CD in my opinion. I bought the Sweet Sixteen/Speak Out To ME single in '73 and I think this song is one of Jackie's best. Even though Tom Dowd produced it, it has a very Van Morrison feel and should have been an A-side single.

Hydra:
WG; A jazzy departure, featuring acoustic guitar and flute, and Jackie's multi-tracked vocals. Again, anticipating the jazzier elements of NEW ARRANGEMENT. Evocative of the ocean, catamarans, and the island it is named after. Jimmy Buffett could have done a nice cover of this.
PL: Oh this is so cool! Take me to your Greek island, Jackie. Food for the ears.
MT: I agree, this is a pretty and fun song.

Your Old Lady's Leaving:
WG: Another Memphis soul number, with a great horn arrangement, hot organ, and guitar work that sounds just like Reggie Young. The most rocking of the "new" tracks.
PL: Donna Weiss again. Yup, it works.
MT: This is the other best song on the CD. It sound's like the opening of the later Groove Is In the Heart song by DeeLite. This would have been an absolute smash had it been released. The session players and Jackie sound great but it sounds like something happened to the tape whereby the recording sounds muffled.

Grand Canyon Blues:
WG: A laid-back mid-tempo L.A. ballad in the vein of Speak Out To Me. Jackie gives a controlled, heartfelt performance.
PL: One of those nicely obscure lyrics that Jackie sometimes comes up with. You know what it's about, but do you? Possibly my favourite of the new tracks, but it's a close run thing.
MT: I agree, great music and imagery.

Sweet Sixteen:
WG: The only released song of the four recordings written and produced by Van Morrison. The saxophone and background vocals by Van the Man should have insured hit status, but didn't. Jackie and Van seem kindred spirits, and this bubbly tune is brimming with fun.
PL: The 45 of this had a very messy sound; this is a great improvement. The song doesn't extend Jackie and it's more a vehicle for Mr Morrison to show how clever he is.
MT: I agree, nice tune.

Flamingos Fly:
WG: Van recorded this himself in 1977, and his version couldn't be more different than Jackie's. While Van used a driving, funky arrangement, Jackie's version puts more emphasis on melody, with a prominent flute and backing vocals by Morrison. Also recorded by Sammy Hagar!
PL: This is better. Another summer vacation song. I've seen flamingos fly, and it's as wonderful as this performance. Worth the wait!
MT: I agree.

Santa Fe:
WG: Many people are familiar with Van's 1978 version of this DeShannon/Morrison co-composition. His recording is smooth and slow, with a country feel. A beautiful, relaxed performance. Jackie's recording suffers from intrusive horns, a busy arrangement and awkward key changes. But her vocal performance is up to her usual high standard.
PL: Well I like the arrangement. Clever, but not clever-clever. Possibly Jackie feeling a little constrained by Van's agenda?
MT: I had waited years (no kidding) to hear this rendition and expected the beautiful guitar coda (that I could have sworn Jackie wrote) from Van's WAVELENGTH LP, and was disappointed in the odd key changes and horns that Bill mentioned. However it is still nice. I especially like the extra verses and the way Jackie sort of sounds like Dusty Springfield on the verses which is ironic since that year, Atlantic tried to persuade Jackie into recording Bacharach's Look Of Love, only a few years after it charted for Dusty!

The Wonder Of You:
WG: I wasn't familiar with this song at all, and it was a pleasant surprise. It starts off gently, and then launches into an energetic duet with Van. I can just picture them singing this together on stage. A very soulful and inspired arrangement and performance.
PL: How many of us thought of that Elvis song when we saw this title on the sleeve? But relax, it isn't. I'm not the greatest fan of Van's pseudo-soul - methinks he tries too hard and isn't very soulful. But Jackie doesn't...... and is.
MT: I did think of Elvis since Jackie knew the King so well. I actually don't like this song which is no reflection on Jackie.

Through The Gates of Gold:
WG: The CD closes with a forgotten outtake from the sessions for YOUR BABY IS A LADY. Like nothing found on that album, this is a traditional gospel standard. Jackie is backed by a prominent sax, and a gospel choir led by Cissy Houston. Similar in style to Too Close from the LAUREL CANYON LP, the only drawback is that Jackie's voice sounds too low in the mix. Still, her performance is one of the most honest and heartfelt of her career. Instead of showing off with vocal histrionics, she chooses a quiet, understated approach that makes for a wonderful close to an amazing collection of songs. Thank you Rhino Handmade for rescuing these wonderful recordings!
PL: Yes Bill, I'll drink to that. And just another raised glass for the great piano of Arthur Jenkins on this final track. Now who's going to give us "Jackie..... the Capitol Recordings?"
MT: This is a beautiful, unique song with a wonderful choir but having heard Jackie belt out Too Close, Bird On A Wire and Ease Your Pain, I was expecting her to let loose more. But I am in no way disappointed. She is a genius with a god given talent and has never made a bad record in her career. This collection just proves that point one more time.
---
---
---
Please click below for the index page for this issue.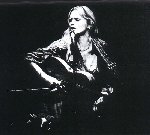 ---
Click on Jackie to return to page one.
---