music and memories
The Girl of Yesterday: The Accoustic Demos
by William George and Peter Lerner
---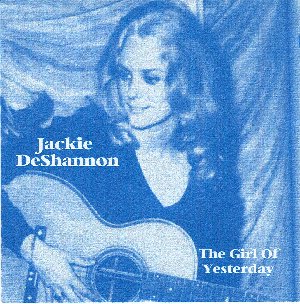 In the early 1960s, Jackie DeShannon wrote many songs with Sharon Sheeley. Most of these songs were bouncy pop tunes with teeny-bopper lyrics. In May 1965, Metric Music, Liberty Records' publishing arm, released a promotional LP of songs written solely by Jackie, accompanied only by an acoustic guitar. These spare folk songs were a drastic departure from her earlier work, and demonstrated a maturity in her songwriting barely hinted at previously. This new style reflected a strong influence by the current folk music movement, with introspective lyrics and intimate singing. Several of the tunes remind the listener of Bob Dylan's mid-60s work, when he was making the transition from topical songwriting to a more personal, introspective lyricism. Several of the songs were covered by other artists in an electric folk-rock style. It leaves one scratching one's head to think how Liberty failed to realize the artistic and commercial potential of this album. But only a couple of months later, Jackie hit the charts with the lush, orchestral pop of What the World Needs Now Is Love, effectively ending her folk music career. But these twelve tracks contain a snapshot of a side of Jackie that her fans never got the chance to hear. (Following the review is information on how to order a copy of this album on CD, with digitally improved sound.)
---
Too Far Out
WG: The first track opens with a snarl. This song may sound familiar, as it was previously released on Demos Volume 1. Jackie shows a pronounced Bob Dylan influence here, both in her singing and songwriting. The acoustic guitar strums hard. This was covered by The Liverpool Five and The Impac in electric versions that more successfully realise the song's potential, but this as raw as Jackie has ever sounded.
PL: Yes, what strikes me is how folky Jackie sounds on this - very different from her other 60s personas. Also how good she is as a writer, constructing images and patterns of words.

Your Heart Is Missing
WG: A tender, sad song about a lover whose affections the singer can't quite capture. Who it was written about we can only speculate. The guitar is finger-picked in a moderate tempo, with Jackie's vocals right up front, resounding with resignation. This song was also featured on Demos Volume 1, but this new clarity gives it a depth not heard before.
PL: This is a stunning recording - Jackie is right there in the room with the listener, picking her guitar, singing just to you.

What's It All About
WG: Jackie takes a break from her love songs to deliver these lyrics of social commentary. More serious and thought-provoking than her usual straight-forward writing, again with a Dylan influence. This is a long way from her teeny-bopper songs.
PL: More inspired word building. Don't know about you, Bill, but I can hear in my mind the Byrds doing a fabulous electric version of this.

Splendor In the Grass
WG: This is the first and most simple and direct version of this song. Against a simple finger-picked guitar pattern, Jackie's voice cracks with emotion. This song is strong evidence for the versatility of Jackie's songwriting; it works successfully as a spare folk ballad, a jangly folk-rocker and orchestrated pop. It was covered in a folk-pop style by The Boys and Gulliver's People, and has reportedly just been recorded by a current group out of New York.
PL: Hear the warmth of Jackie's voice on this one. You know Liberty were mad not to give Jackie space in a studio with a competent producer - Nitzsche for preference - and let them create a mega hit album. These demos show such amazing promise.

New Thoughts
WG: Another thought-provoking lyric about growing up and changing perspectives. Jackie's voice is fully engaged against a quick, chiming guitar accompaniment, with several mood and dynamic shifts. To my knowledge, this song (as well as several others on this collection) was never covered by another artist. Peter, can you think of a group that would have made a killer cover of this tune?
PL: Good question. What about The Association - scope for soft harmonies and lovely sounds. I guess Jackie was hearing those sounds in her head when she was laying down this demo.

Hand Made Silver Ring
WG: On first listen, this song seems over-dramatic and a little silly. But after listening a few times, and putting it in the context of the time, it becomes a modernisation of the olde ballad folksong. The lyrics verge on teenage melodrama, and Jackie's vocals rise to that level. The guitar plays chunky chords which, if electrified, would most likely come out sounding like a pre-punk garage guitar. Perhaps a girl garage band could have covered this successfully.
PL: Oh I love this song, and yes it does have the feel of a traditional ballad, in words and melody. The 80s girl Leslee Swanson who brilliantly covered Jackie's Each Time would do a miraculous version of this. Where are you, Leslee?

To Be Myself
WG: Another great example of Jackie's songwriting versatility. Being familiar with Jackie's Motown-style version of this song on her Are You Ready For This LP, this spare acoustic folk version came as a revelation to me. The song takes on a much more personal, intimate character. And for even more variety, Joe & Eddie covered this in an electric folk-rock style. (Marianne Faithfull also reportedly recorded an unreleased version of this song, most likely in the folk style heard here.)
PL: Yes, this is probably the DeShannon song which the massively ignorant Andrew Loog Oldham rejected on behalf of Marianne Faithfull. Interesting how Jackie's voice at barely 20 years old had all the warmth, character and experience that Ms Faithfull's was still aspiring to, a quarter of a century later.

The Girl of Yesterday
WG: This is musically the most unique song on the set. The guitar plays chords loud and soft, crisp and smooth, and even adds percussion by slapping the wood on the front of the guitar. Another olde ballad style composition, this is less over the top than Hand Made Silver Ring, and the both in the lyrics and performance. This could have been given a nice jangly performance by some lucky folk-rock group. Our loss it never happened.
PL: There's almost a Latin rhythm going on here behind Jackie's voice. The lyrics aren't folky at all, and in my own mind, I can hear this being performed well by a female soul singer of that area - Baby Washington or Maxine Brown, perhaps.

Its Gonna Be Alright
WG: This is the same recording that was titled Don't Doubt Yourself Babe on Demos Volume 1, but without the skip and the surface noise. One of Jackie's most respected tunes, given a Bo Diddley beat by the Byrds, is heard here in a wistful acoustic version, and is one of Jackie's most honest and heartfelt performances. It's amazing that more groups didn't cover this song.
PL: Yes, another lovely recording where Jackie sings just for the listener. The Byrds version didn't bring out all the heart in this song. Again, crying out for a DeShannon / Nitzsche studio session.

With You In Mind
WG: Also heard on Demos Volume 1, this song was made famous by Marianne Faithfull. Marianne's version didn't stray far from Jackie's original demo, but her voice couldn't come close to matching Jackie's emotion. To my ears, this is one of Jackie's most hauntingly beautiful compositions, and her vocals are breathtaking. The guitar creates just the right atmosphere throughout.
PL: Bill, it's listening to tracks like this which reminds me why I have followed Jackie DeShannon's career for over 40 years. Writing, singing, performing, playing - she has it all.

You Could Break My Heart
WG: You may have heard this song before. It was recorded under a different title, The Ballad of Possibilities, by Caroline Carter. Another Dylan-style ballad, the lyrics and performance are all vulnerability.
PL: This one is just good to listen to. Jackie enjoys her performance and it communicates.

Still Around
WG: This song has many titles. Let me try to clarify…The original found here is called Still Around, apparently also titled Away Brought Down. Peter and Gordon recorded a version that added a chorus from another DeShannon composition, People Wanna Hear What I Say, which they titled A Boy With Nothing. Got it? Well, anyway, I love this song, whatever it might be called. Jackie sings a kiss-off to a faithless lover, but not without letting him know she might still be available if things don't work out with his current flame. The guitar kicks up the tempo and defies you not to sing along. It makes a great ending to an amazing album left in the dark for too long. And yes, Jackie is still around!
PL: This is the track on the demo album which has the most authentic early 60s hootenanny feel - you can imagine Peter, Paul and Mary, or Tom Paxton singing it alongside a camp fire. And there's nothing wrong with that.


Bill, this CD is a treasure. An enormous talent showing some, until now, hidden depths. I was completely knocked out when I first was privileged to hear these tracks, many years ago, and the effect hasn't left me. If only… well Jackie's career would have taken a different turn, maybe even the history of popular music.
---
The Girl of Yesterday
is available for sale exclusively from the JDSAS for $20 US/£15 UK. The deluxe edition featuring four-page artwork and full size jewel box with tray card is available for a limited time. Orders can be sent to the JDSAS addresses, or paid online through
PayPal.com
to the email address
jackiedesh@aol.com.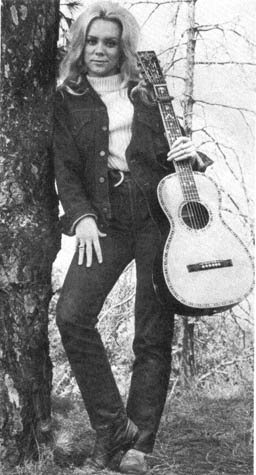 ---
Please click below for the index page for this issue.

---
Click on Jackie to return to page one.
---