music and memories
Phil's Spectre - A Wall of Soundalikes
ACE CHCHD 978
by Peter Lerner
---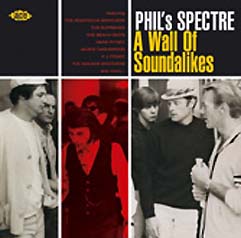 The premise of this excellent 24-track CD is that each of the tracks sounds as if it might have been produced by the great Phil Spector during his "wall of sound" periodÖÖ.. but that none of them was.
Spectorís buddies feature all over the place, though. The ultimate Spector sidespersons, Sonny and Cher, wade through Just you (was it really 40 years ago that Cher starting making hits?). Nino Tempo, sax player supreme, and his sultry-voiced sister April Stevens do a Righteous Brothers on All strung out, and the Righteous Brothers themselves do a Spector on (Youíre my) Soul and Inspiration, actually produced by Brother Bill Medley. Phil Spectorís right hand man and ace arranger, Jack Nitzsche, comes up with the goods on the Walker Brothersí Love her and P.J.Probyís sublime I canít make it alone.
The variety of artists who tried to jump on the Spector bandwagon is in retrospect not surprising. Here are Gene Pitney, who worked with Phil in his early days, the Beach Boys (Brian Wilson hero-worshipped Spector) and the Supremes. Yes, thatís right, the Supremes, with Ms Diva Ross sharing the vocal honours with Mary and Florence on the little known Run run run.
And the lesser known mortals make some great music too: The Four Pennies (aka The Chiffons), Dorothy Berry, Carol Connors (once a Teddy Bear, but thatís another story) and Kane and Abel, are just a few of these.
So why is this being reviewed for "Jackie"? Have you guessed yet? Well, track one is the ultimate, best ever, 1963, Liberty 55645. Yes, the stupendous sound of Jackie DeShannonís When you walk in the room, produced and arranged by the great man (and Jackieís close friend) Jack Nitzsche. A track to die for, and I donít mind how many times I hear it. Turn the volume loud! And for good measure we have at track 16 the legendary (?) Hale and the Hushabyes rendition of Yes sir thatís my babyÖÖ. And as every "Jackie" reader knows, H and the Hs comprise most of the Blossoms, Sonny and Cher, Brian Wilson and our own Ms DeShannon. Mind you, you canít pick Jackieís voice out amongst the wall of sound, but itís still a powerful track.
If you like 60s pop music, which I guess you do, then buy this! And the liner notes are compiled by JDSAS member and long-term DeShannon fan Mick Patrick.
---
---
---
Please click below for the index page for this issue.

---
Click on Jackie to return to page one.
---