music and memories
TWO NEW ACE CD's
by Peter Lerner
---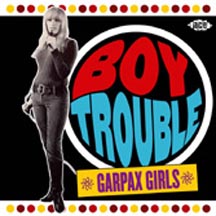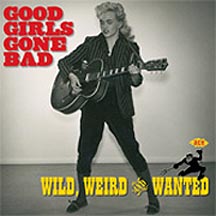 ---
One of the hardest-to-find 45s for anyone seeking to obtain a collection of cover versions of Jackieís songs, is Back street girl by Diana Dawn, one of the few records put out by the Ed-Nel label. Itís even more difficult to find than the British version, by the tv and movie starlet Adrienne Poster.
Diana, apparently, was something of a mystery. An attractive blonde, not unlike Jackie herself, she was reputedly the girlfriend of a wealthy businessman, twenty years her senior. This enigmatic gentleman felt that Diana had talent and wanted her to make a record. Well, she did, in 1965, and Back street girl was the result.
How do I know this? It's one of 26 Paxton-produced records on the Ace CD Boy Trouble - Garpax Girls (Ace CDCHD 1005), and indeed itís one of the best tracks in the collection. Other girls on the disc include the Rev-Lons and the Fashionettes, as well as one Sandi Shore (apparently no relation). A mixed bag, really, quite charming in parts but also showing the producerís limitations. One for the completists. But if you don't have Back street girl, youíll pay more for the 45 than this CD, and itís a nice Jackie teen offering. Have I tempted you?
Now if you want Jackie herself, operating under one of her pseudonyms, then look for Jackie Shannon and the Cajuns on another Ace CD, Good Girls Gone Bad (Ace CDCHD 1016). These are female rock ní roll and rockabilly tracks from the late 50s and early 60s, mostly by young women with a definite southern twang. Jackie sings her wonderful, raunchy version of Just another lie, originally cut in Cincinnati for the Fraternity label, and as always the Ace engineers have brought out the sound brilliantly. Other singers include the Louisiana larks Margaret Lewis and Linda Brannon (Shreveport's Linda actually did the original of Just another lie), and a young and raw Texan called Billy Jo Spears, whose Get behind me Satan and push would certainly not have amused the country music establishment in the 1970s, by which time Billy had become Billie. This collection also features all of the recordings by wild and weird enigmatic rockabilly siren Sparkle Moore, pictured on the cover.
This is a fine CD for those who like the untamed rockiní sounds of the south.
---
---
Please click below for the index page for this issue.

---
Click on Jackie to return to page one.
---