Jackie

The magazine of the Jackie de Shannon Appreciation Society
Volume 2 - Number 11
Spring 2002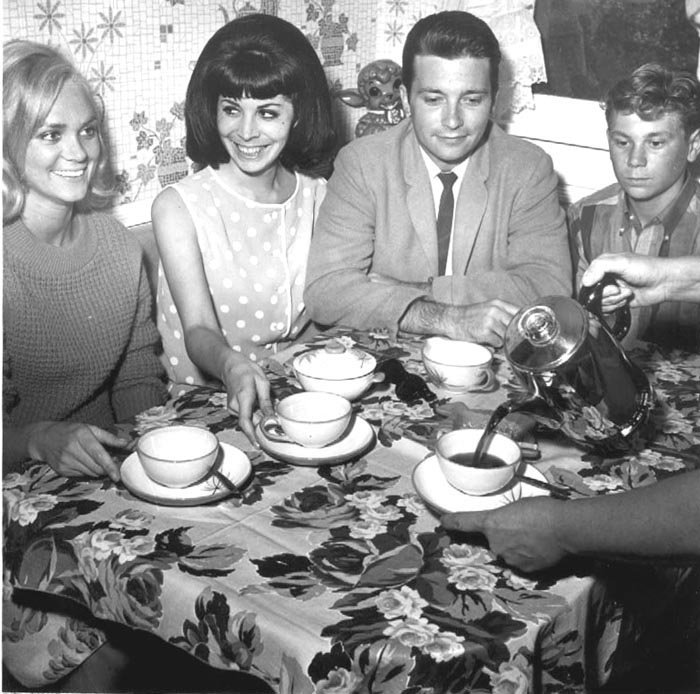 ---
back talk
Welcome to a very special issue of Jackie! In these pages, you will find wonderful photos of Jackie and her family and friends, all taken by famed rock photographer Eddie Rocco. His own notations on the pictures appear underneath each respective photo. We are sorry to not have more information on the origin or purpose of these pictures, but we assume they were taken for a feature article on Jackie circa 1964. Does anyone know if they were ever published? The caption for the cover photo reads:
"Jackie DeShannon, her songwriting partner - Shari Sheeley, D.J. - Jimmy O'Neill (husband of Shari Sheeley), Jackie's brother - Randy"
This quarter also sees the release of a new compilation of Jackie's songs, Classic Masters. While the track listing is skimpy (only twelve tunes, with It's So Nice being the only track debuting on CD, and Faded Love making its "official" CD debut, in mono), the liner notes are decent, and include several excellent photos of Jackie. We are very excited to have Frank Allen, a member of The Searchers since 1964, offering his views on these dozen DeShannon classics.
Also in these pages is the second and final installment of our commentary on the many, many cover versions of Put A Little Love In Your Heart. As with our previous commentary on When You Walk In the Room, a compilation CD (or two) is offered following the article.
• We reported in the last issue about Video Beat, which carries the Surf Party video. Add one more company to that list. The Spinning Disc (now revived after the sudden death of the proprietor last year) at PO Box 432, Isleworth, TW7 6WD, UK, carries both Surf Party and C'mon Let's Live a Little, plus tapes of a load of US TV programs. Both videos are priced at £15 (UK) plus post and packing £1-50 for first video, 50p each extra one. Unfortunately for US fans, The Spinning Disc only deals in PAL format, which isn't compatible with most US VCRs. You can also check them out on their website, www.spinningdisc.co.uk. Their email address is spinning.disc@virgin.net

• As we are preparing this issue to go to press, word has just arrived that Sharon Sheeley, Jackie's early co-writer, has passed away. Next issue, we hope to offer a fitting tribute to the woman who played such an important role in Jackie's success and career. Rest in peace, Shari. We hope you are reunited with your beloved Eddie at last.

• Thank you to Frank Allen and Peter Lerner for their contributions to this issue.
---
• Back issues of Jackie, Volume 2 can be ordered for $5/£4 apiece at the JDSAS addresses.
• CD offers: Demos Volumes 1 & 2 are both available for purchase. $20/£15 each. The When You Walk In the Room compilation and Hits of the Genius, Vol. 1 are available for $15/£10 each.
---
Articles in this Issue
by Frank Allen
Outside her $40,000 house
In her bedroom
Ready for tennis
Get together at her home
In the studio with Shari Sheeley
Writing a hit single with Shari Sheeley
Put A Little Love In Your Heart (part 2)
From "Biography Magazine" (April 2002)
Obituaries
(Too late to be included in the printed edition of "Jackie")
---
---
Jackie DeShannon Appreciation Society

Publisher & Editor (USA) - William George
Founder & Contributing Editor (UK) - Peter Lerner
Webmaster - Alan Rickards
Archivist - Mark Tyler
US Address - 2518 21st Street #2, Astoria, NY 11102
UK Address - 4 Victoria Gardens, Marlowe Road, High Wycombe, Buckinghamshire, HP11 1SY
Website - https://jackiedeshannon.tripod.com/
(but then if you are reading this you would know that!)
---
Click on Jackie to return to page one.
---