music and memories
---
The Drugstore's Rockin', Volume 1
by Peter Lerner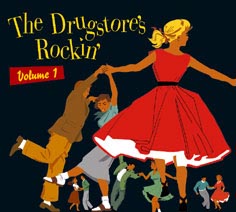 The hopes and dreams of young America in a more innocent age. The days when composers wrote songs about people called Norman and Barbara. The young kids with big guitars, floppy curls, check jackets, who are now real estate salesmen, auto dealers and ministers in the church of God. This wonderful Bear Family CD tells 26 stories about real people who cared about their music in the short period from 1956 to 1963.
There's Billy Harlan, who neglected to sign his contract with RCA so his confident Bo Diddley-style rocker Teen Jean Jive was never released. There's the songwriting dentist who wrote a charming but un-memorable flop for Chuck and Bill (on this CD), hits for Elvis and was last heard of as… a dentist. There's early work by Joe South, Paul Evans, Jack Clement and Boots Randolph, names which convey a lot to people who like music of that era. There are might-have-beens or nearly-weres like Darrell McCall, whose Dear One knocks spots off composer Larry Finnegan's hit version; or The Sprouts, two tiny guys who hung around the scene for years without selling many discs.
There are wonderful records like the Four Preps' Big Man, a commercial radio hit in the UK in the 1960s but actually recorded in 1958; John D. Loudermilk's laid back version of his cute song Angela Jones, and Sue Thompson's effervescent love song to Norman - a record I loved in its day without knowing that the girlie-voiced singer was actually in her 40s. There's hitmaker Jack Scott, Roy Orbison's co-writer Joe Melson, and great unknowns like Ric Cartey and the Lane Brothers - so near but so far from that elusive hit status.
And then there's one Jackie Dee, with her masterful self-composed rocker Buddy, reputedly recorded in Nashville after Brenda Lee's My baby likes Western Guys studio session. In fact most of the songs here were recorded in Nashville, giving the lie to those who believe that New York and L.A. were the hitmaking epicentres of teen America at that time.
This is a beautifully presented CD; a credit to all involved. Including those unknown artists.