Jackie

The magazine of the Jackie de Shannon Appreciation Society
Volume 2 - Number 16
Summer 2004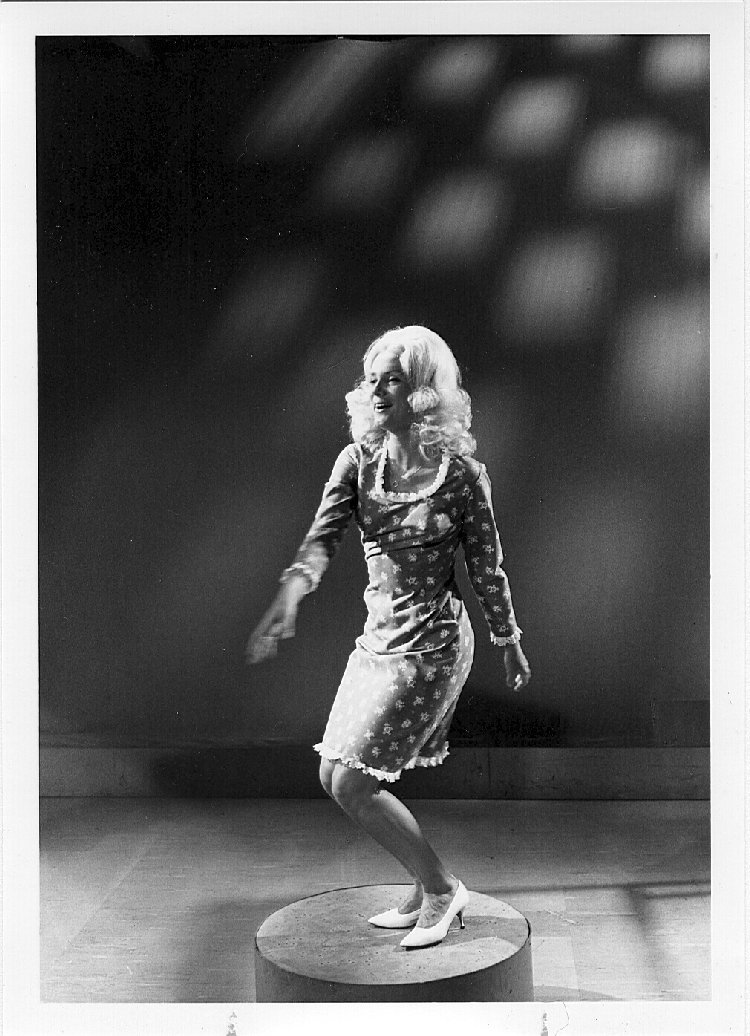 ---
back talk
At long last, welcome to this long-overdue issue of Jackie! I apologize for the delay. We try to publish these on schedule, but sometimes real life interferes. Hopefully we can keep on schedule for the next issue! But I thank you for your patience.

It's interesting how these issues take shape. When I started compiling the articles and photos for this issue, I wasn't sure how they were all going to fit together. But, as usual, a theme emerged. Most of the items in this issue deal with Jackie's television appearances. First, there was the recent portrayal of Jackie by singer Liz Phair on the television series American Dreams. Then there is the list of Jackie's singing appearances on various television shows (thank you to Mark Tyler for finding this website). There are also some photographs of Jackie singing on the Lloyd Thaxton Show (date and song anyone?) Finally, there is a photo and blurb about Jackie singing on the Academy Awards telecast (thanks to Phil Milstein). The secondary theme seems to be "When You Walk in the Room." Peter Lerner has written a review of Agnetha Faltskog's latest CD, which includes a great new version of this classic (which is currently climbing the UK charts!). Tim Viney has also provided a recipe for programming your mobile phone to chime that classic riff. Add to that a recent article from the National Examiner tabloid and a review of a new CD that includes several Jackie-penned songs, and you have the new issue of Jackie. Happy reading!
---
Recent sightings:
Jackie at the Songwriters Hall of Fame ceremony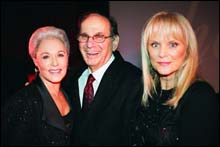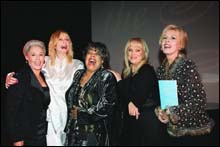 ---
Recent sightings:
Jackie receives an award for her support of the Pet Place charity.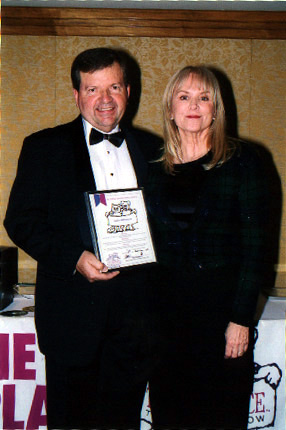 ---
Articles in this Issue
Review
Vintage photos!
Jackie's TV Appearances
Jackie and Bud Dain
by Peter Lerner
by Peter Lerner
April, 19, 2004
by Alan Rickards
---
Thank you to Peter Lerner, Mark Tyler, Phil Milstein & Tim Viney for their contributions to this issue.
Back issues of Jackie, Volume 2 can be ordered for $5/£4 apiece at the JDSAS addresses.
Exclusive CD's available. Please see the Exclusive CD Offers section of this website at https://jackiedeshannon.tripod.com/jdsasoffers.html.
---
Jackie DeShannon Appreciation Society
Publisher & Editor (USA) - William George
Founder & Contributing Editor (UK) - Peter Lerner
Webmaster - Alan Rickards
Archivist - Mark Tyler
US Address - 2518 21st Street #2, Astoria, NY 11102
UK Address - 4 Victoria Gardens, Marlowe Road, High Wycombe, Buckinghamshire, HP11 1SY
Website - https://jackiedeshannon.tripod.com/
(but then if you are reading this you would know that!)
---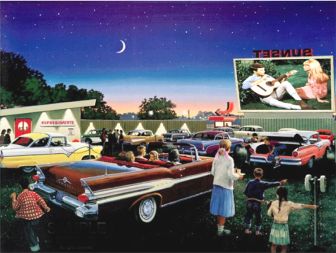 ---
Click on Jackie to return to page one.
---