music and memories
A Review of the Demo's CD
By Peter Lerner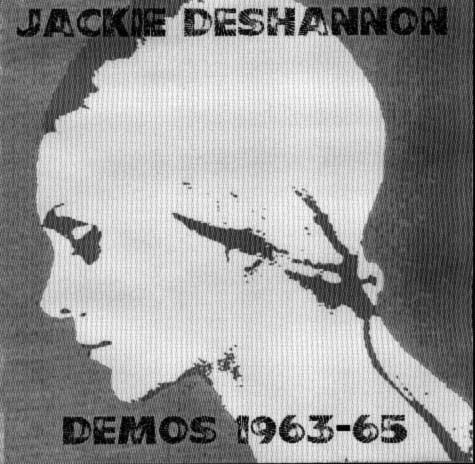 ---
The new millennium has started wonderfully for admirers of Miss DeShannon, with the release of this bountiful CD of rare demos. Little is known about how these performances have found their way onto this CD, which appears to be of Italian origin, but a limited number of copies have found their way to the United States and have been obtained by the JDSAS, which you can purchase for $20 US/£16 UK, from the JDSAS address on the front of this magazine. Meanwhile, for those who have not already parted with their cash, here is a track by track review of the album, to whet your appetite and provide the background information which maybe should have been included in the liner notes.
• Blue Ribbons starts the proceedings. Known to die-hard fans via covers by the Paramounts, Vic Dana and others, Jackie demos in a husky voice, not surprisingly, as it's a boy's song. Taken at an ambling pace, the song has a good-time feel.
• Can't Help Forgiving You is a ponderous song which we called in the early 60s a "beat ballad." Recorded in the UK by the Searchers and Mark Wynter, Jackie's version is moody with lots of piano in the backing.
• Carrying A Torch is a Jackie classic. Slow and dreamy, Jackie emotes in a mature voice. Wynona Carr recorded a decent cover, and Bernadette Peters had the good taste to revive the song much later. But Jackie's performance is magnificently understated.
• Daydreaming of You was much covered and never a hit. A pity, as the concept and words are charming. Jackie has fun singing this in her most brattish of voices with a girl-group assisting the vocals.
• Don't Put Your Heart In His Hand. A powerful ballad which Jackie powers in her best Elvis voice - with some success as the song was ultimately recorded by…Ral Donner. Kiki Dee's contemporary cover wasn't bad either.
• Heart In Hand. Jackie's demo of the Brenda Lee hit is simple, clear-voiced and emotional - lovely. The production echoes and reverberates like an early dose of Spector. Listen to the way the background girls support the vocal.
• Baby Bye-O. Jackie obviously cared for this song as this is a well put together demo with lots of commercial appeal. I suppose the Brit in me just can't get tomato fertiliser out of his mind. Maybe that's why the Everly's couldn't finish the song without breaking into hysterics…
• Backstreet Girl should have been a big hit for someone, if not Adrienne Poster of Diana Dawn. Lots of teen appeal, captivating performance, great interchange with the back-up singers. yes, Jackie DeShannon should have released a version!
• I Must Be Dreaming is a slow moody ballad, which sounds as if Roy Orbison might have done a good job of it, or Delaney Bramlett even. Jackie's performance is tender and the moment when the orchestra sweeps into the instrumental break is inspired. Orchestras on a demo tape - Metric Music certainly supported their girl songwriters.
• I Shook the World. Great! Brilliant! A soulful duet between Jackie and Darlene Love. Great guitar break. Lots of handclapping. Who needs Phil Spector? If you need to convince anyone of how great Miss DeShannon is, make them listen to this.
• It's Such A Feeling. Another powerful beat ballad. Not the best song on the album, but Jackie sings satisfyingly against the slightly ponderous backing.
• I've Just Got to Get Away. Dum-dumpdepdum-de-doo-be. A lovely song, only previously heard on an early Johnny Rivers album. Really grows on you, this one. Could have been a hit in those heady early 60s.
• Jimmy Baby. A tour de force. One of my all time favourite DeShannon compositions, only previously heard on a Bob B. Soxx album and rarely acknowledged by Spector collectors. The structure of the song is reminiscent of ancient folk ballads, but the concept with strong drumming and much use of background voices is brilliant. You just knew Jackie's demo of this would be great - and it is! Great singing, Jackie.
• My Heart Keeps Hanging On. Jackie's demo is much looser in concept that Brenda Lee's eventual version. Catchy, commercial song, just listen to Jackie's voice as she gets right into the song. Could have, should have hit gold for our girl.
• Little Bit of Heaven. One of those DeShannon-Sheeley teen anthems from their earliest period of co-writing. Not much subtlety but lots of fun. Sounds like Bobby Vee might have done well with this.
• Love's Got A Hold On Me. Great R&B feel here, would have done well on that Bob B. Soxx album. Great demo, super sound, nice sax solo, what treasures there are on this CD! Jackie's having enormous fun singing this.
• Momma Don't Wait Up. Girlie ballad, aimed (you might think) squarely at the Shirelles. A potentially quite ordinary song, made very special by Jackie's passionate vocals and quality harmony backing singing.
• Mr. Guitar Man. Here's a rarity, a demo of an "instrumental" ultimately recorded by Duane Eddy and those Rebelettes/Blossoms. This is almost certainly Glen Campbell on guitar, with vocals by those Rebelettes/Blossoms, led by Jackie DeShannon. A sublime recording.
• One More Time. More nice guitar playing, as Jackie belts out a soulful ballad in her early Ray Charles mode. The song is nothing, the performance is everything, as Jackie creates a mood of sexual passion.
• There's Gonna Be A Fight. Tough-guy song sounding strange coming from sweet Jackie's lips, although she uses her best husky voice. That's demos for you. The Shangri-La's might have done this song, with a bit of gender bending.
• We'll Be Together Again. Bring out the Eddie Cochran fan club. This is the tender, ethereal ballad which Sharon Sheeley and Jackie reputedly wrote for Eddie after his death, only heard before as a snippet on a BBC documentary. This is the full version, the real thing, a moment of genuine emotion. Lovely song, lovely performance, with prominent backing vocals from Mac Davis.
• Won't He Ever Notice Me. Back to Teensville. Jackie could seemingly turn out great songs like this by the dozen. In the hands of Lesley Gore this could have reached the Top Ten. We can just listen to Jackie's dreamy demo and imagine what might have been.
• Don't Doubt Yourself Babe. Jackie and her guitar, originating folk-rock single handedly. The Byrds charged through this on their debut LP; Jackie's version brings out the reflective words with great intensity. Liberty records were criminal not to appreciate the talent they possessed, rejecting material like this for commercial release. Light years away from Teensville!
• With You In Mind. From the same period as the previous track. A lovely, gentle performance, without the arch histrionics of, say, Ms Faithfull.
• I Don't Wanna Be Without You. An unusual and rare track. Jackie raises her voice to be heard over a discordant and dominating guitar. The description sounds unappealing but the effect is strangely…different. Methinks Jackie was imagining an orchestra inside her head.
• Something In Your Blood. A nicely complex song, which I would say comes from Jackie's Merseybeat era, aimed squarely at the Searchers - who neglected to record it. Lots of harmonies and unexpected quirks. Come on Frank and the lads, you could do with another hit. Here it is!
• Too Far Out. A bit of a good-time song, hints of Dylan in the skilful and clever writing. Jackie has fun with this, and you'll be smiling by the time the track is one minute old.
• Your Heart Is Missing. Very folky. Did Jackie ever sing this in a coffee house in Greenwich Village? Well, she should have. As good as - no, much better than - most of the folky stuff put out in the wake of Bob Dylan.
Well folks, that's it. 22 songs co-written by Jackie and Sharon Sheeley, the last six being DeShannon solo compositions. This selection of demos recorded over just two years in the 60s shows an immense variety of styles of writing and singing, and more than anything, the wonderful talent that is Jackie DeShannon. We know there are more, similar DeShannon demos out there. Please Signor Italiano, volume two as soon as you can!
---
---
---
Click on Jackie to return to page one.
---