Jackie Live at the Whisky-A-Go-Go October 28, 2000
---
DeShannon, Ever Sincere
by Natalie Nichols
With such genteel '60s classics as Burt Bacharach and Hal David's What the World Needs Now Is Love on her hit list, Jackie DeShannon has always been more free spirit than snobby diva. So it wasn't surprising that the singer-songwriter acted like a member of the band during her rare performance Saturday at the Whisky.
The Kentucky native and 40-year Los Angeles resident demanded no vamping introduction, but instead walked out with her nine-piece ensemble, which ranged from twenty-somethings to veterans. Beaming at the assembled throng of family, friends and fans, she strummed her acoustic guitar and launched into the love-struck pop of her composition When You Walk in the Room, a 1964 hit for the Searchers.
The nearly hour-long set included such touchstones as her own 1969 Top 5 single Put a Little Love in Your Heart, the massive 1981 Kim Carnes hit Bette Davis Eyes (which DeShannon co-wrote), and Needles and Pins, another Searchers hit that she recorded first, with less chart success. But this wasn't strictly a nostalgia trip, as DeShannon, 56, performed selections from the highly personal "You Know Me," her first album of new material in more than two decades.
Just as her warm alto was still fetchingly smoky-sexy, so were her messages still positive ones about love, whether the knee-weakening or the people-uniting variety. Such standouts as There Goes the One recalled her earlier torchy tunes, balancing girlish infatuation with mature devotion. Although her sax-driven, heartland-rocking group resembled a milder version of Bruce Springsteen's E Street Band, the better songs evoked the plain-spoken twang of Tom Petty & the Heartbreakers.
DeShannon's wistful sentiments were sincere, and, if not always deep, often thought-provoking. Coming from someone who helped spread hippie values, the poignant Vanished in Time, which laments the disappearance of small-town America, also stood as a sad rumination on the dissipation of that whole love-sweet-love mind-set among the baby boomers she originally inspired.
Copyright 2000 Los Angeles Times ~ Monday, October 30, 2000
---

---
Jackie Rocks the Whisky!!!
by Mark Tyler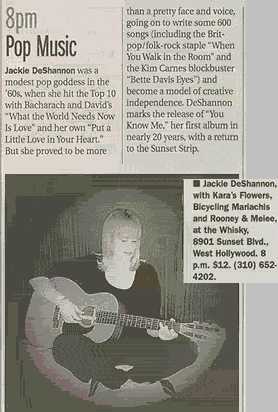 It was great seeing Jackie DeShannon's name in lights at a rock venue, considering she did more than anyone else I know to create and further develop the sound of rock music that we take for granted today. On October 28th, 2000 at 8PM the line spread around the block, and it was a real thrill to hear Whisky A Go Go patrons saying over and over that they were there to see Jackie DeShannon. (And these were the 20-something year olds!) One girl said her parents were jealous of her because they had to work and missed the concert! Whisky advertisements pictured Jackie strumming her guitar. I wondered how Jackie would assimilate her sound with the other three rock bands on the bill.
When 9:00 rolled around there was no question; Jackie was ready to rock. It was nice seeing industry representatives (Rolling Stone, Kaci Christian, as well as Jackie's brother, son, husband, manager and attorney to name a few). The lights came up and Jackie was part of a ten-piece band that started playing When You Walk In the Room, followed by the boisterous Just How Right You Are. All of the songs, new and old, sounded even better in concert than on record. Jackie dedicated Needles and Pins to the late Jack Nitzsche, Any Heart to Ingmar Bergman, another song to manager Hal Lifson, and announced that Vanished In Time was the song she wanted to write for 30 years, and that it was the song that prompted her renewed activity. She added accapella sounds to Red Montana Sky and gave a great performance of Steal the Thunder. With such hip beat activity, I wondered how in the world she was going to perform the waltz sounds of What the World Needs Now Is Love, which was performed as an acoustic number complete with a sing-a-long that the packed audience joined in with and absolutely loved. Even with so many great songs already performed, the high point for me was when the stage lights turned blue and the talented musicians (reminiscent of Bruce Springsteen's E Street Band) played an instrumental passage followed by a great sounding Bette Davis Eyes that out-rocked the similar Kim Carnes version complete with hand claps and great guitar. How would Jackie ever top a great moment like this?? With a rock version encore of Put A Little Love In Your Heart. It was great to witness such a talented performance but it must have been equally thrilling for Jackie to be so well received by the young fans at one of L.A.'s staple rock clubs amid a new century. Jackie recently mentioned a few New York dates for January followed by a later tour, book release, web chats etc. For more information, stay tuned to the JDSAS website and the wonderful www.jackiedeshannon.com.
---
Please click below for the index page to this issue.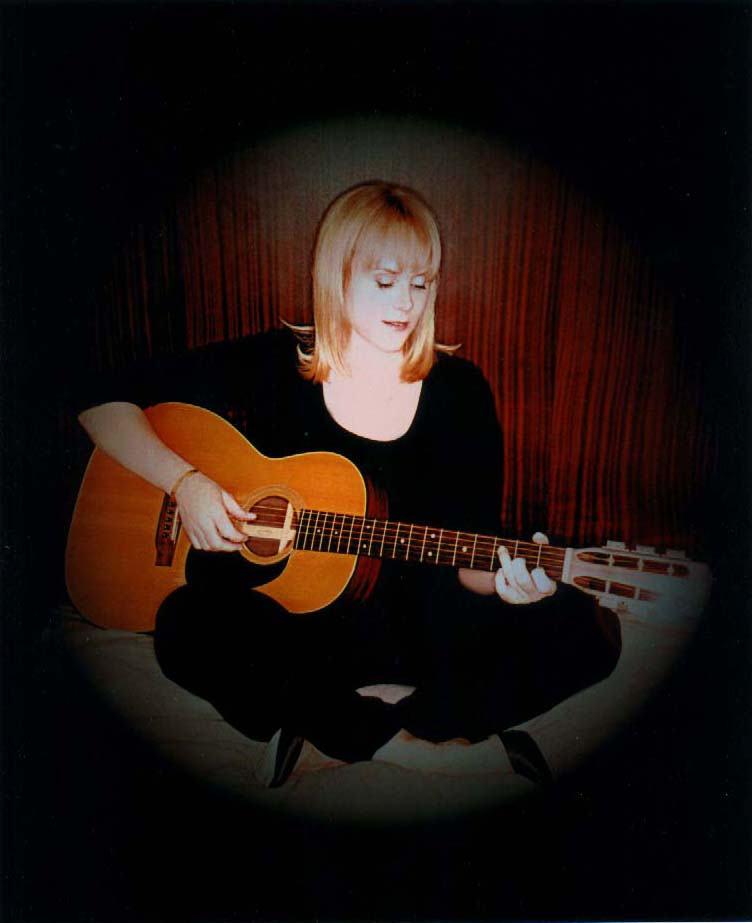 ---
Click on Jackie to return to page one.
---