Surf Party
---
This edition's featured website can be found at www.swinginchicks.com. They have also published a 2002 calendar which features Jackie as one of the swingin' chicks of the '60s!
HER SWINGIN' '60s CREDENTIALS: With her versatile talent, Jackie DeShannon has enjoyed a long career as both a successful singer and composer, highlighted in the '60s by her classic recordings "What the World Needs Now Is Love" and "Put a Little Love in Your Heart."
CATEGORIES OF SWINGIN' CHICK: Songbird and Movie Star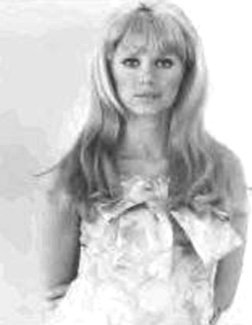 BIRTH: She was born August 21, 1944, so she was only fifteen as the '60s began. Her exotic birthplace: Hazel, Kentucky. Her moniker at birth: Sharon Lee Myers, though at least one '60s bio lists her as Sharon Lee Dain. As a young teen she cut some '50s country records using the names Sherry Lee, Jackie Dee, and then Jackie Shannon (the name Jackie DeShannon doesn't appear until '59). By the way, we asked her where the name DeShannon came from, she told us it was literally to mean "from Shannon," a tribute to the Irish folk songs she heard as a child and a place in Ireland she loved.

IMPACT ON THE '60s: Though she's fondly remembered for singing several hit songs in the '60s, Jackie has had an equally significant impact on music history as a composer and as a pioneer of American folk-rock. A contemporary of the great Carole King and Joni Mitchell, she was one of the first successful female songwriters, and as such was a trailblazer helping pave the way for the popular female singer/songwriters of the '70s, including Carly Simon, Laura Nyro, Jennifer Warnes, and Christine McVie. Other performers have long recognized her talent, as proven by the too-numerous-to-count cover versions of her songs. During the late-'50s and then into '60s the following artists recorded songs written or co-written by Jackie DeShannon: the Byrds ("Don't Doubt Yourself, Babe"), the Searchers ("Needles and Pins" and "When You Walk in the Room"), the Ventures ("When You Walk in the Room"), Bobby Vee ("You Won't Forget Me"), Sandie Shaw ("You Won't Forget Me"), Del Shannon ("When You Walk in the Room"), the Righteous Brothers ("Burn on Love"), Cher ("Come and Stay with Me"), the Fleetwoods ("He's the Great Imposter"), Brenda Lee ("Dum Dum," "Heart in Hand"), Marianne Faithfull ("In My Time of Sorrow," "Come and Stay with Me," "With You in Mind"), the Crickets ("Right or Wrong"), among dozens of other singers and bands. She's written songs with such luminaries as Van Morrison, Randy Newman, Michael McDonald, and Jimmy Page, she's recorded with legends like Elvis, Barry White, and Dr. John, and she's shared live stages with the Beatles, the Beach Boys, the Association, Neil Diamond, Glen Campbell, and many more. Still writing and recording, she's got 21 original albums, and a dozen more greatest hits/compilation releases, on her resume. Today Jackie stands as one of the '60s true music legends, someone who helped steer the course of music history for the rest of the century. In an interview we conducted with Jackie in September '99, she told us that her personal favorite is "Put a Little Love in Your Heart: "That's the song that's the closest to my being and how I really see things."

CAREER IN THE '60s: In 1960, Jackie DeShannon, still in her mid-teens, was singing country songs in concerts around the U.S. and was starting to compose her own music. Following the advice of rockabilly star Eddie Cochran, she moved to L.A., where she quickly signed with Liberty Records and began making a string of promising, yet unsuccessful, records. Simultaneously, her songwriting career began to blossom, especially when she teamed up with Cochran's ex-girlfriend Sharon Sheeley (who had already written the hit "Poor Little Fool" for Ricky Nelson). Together they wrote minor-but-memorable hits for other artists, notably the Fleetwoods ("The Great Imposter") and Brenda Lee ("Dum Dum"). In '63 Jackie got her first significant airplay (especially in the U.K.) with her own "Needles and Pins" and "When You Walk in the Room," songs tinkered with by Sonny Bono to have the kind of jangly folk-rock guitars that the Byrds would popularize some three years later. That same year "When You Walk in the Room" was recorded by an English folk group called the Searchers, and it became a major success in the U.K. Her biggest exposure to date soon followed on one of the most publicized tours of the decade. Though she had yet to record any major hits on her own, Jackie was already an accomplished live performer: She'd been singing gospel and country songs in talent shows since childhood and had been performing in concert since '59, so that by '64 she was considered popular enough to be included as one of the opening acts on the Beatles' first tour of America. She also toured with the Dave Clark Five during this time. Her fame spreading, she went to England and an appearance on the show "Ready, Steady, Go!," meetings with Marianne Faithfull (who would cover several of her songs), and writing sessions with Jimmy Page. Returning to the U.S., in '65 she recorded her first top-ten single in the U.S. Ironically, it was a song written by someone else -- "What the World Needs Now Is Love," penned by Angie Dickinson's husband, Burt Bacharach and partner Hal David. She continued releasing albums throughout the decade, spanning different musical genres from folk to rock to soul. One album, 1967's For You, was a collection of decades-old standards, presaging later collections by Linda Ronstadt, Joni Mitchell, and other vocalists; another album, 1968's Laurel Canyon, cast Jackie in a sweet, gentle hippie mode that would influence the coming soft rockers of the '70s. Her version of "The Weight" in '68 edged briefly onto the charts in '68. In '69 she co-wrote and recorded the masterful "Put a Little Love in Your Heart," the million-selling single that would be a top-five hit. Later that same year she had her last top-forty hit with "Love Will Find a Way." Meanwhile, as if conquering the music world weren't enough, Jackie also appeared in several movies during the '60s. Though the movies were lightweight they had interesting casts and Jackie herself always shone. Surf Party in '64 paired her with singing star Bobby Vinton (Jackie sang the song "Glory Wave"). In Intimacy in '66 she didn't sing but she co-starred with Joan Blackman (star of Elvis's Blue Hawaii). Most interesting of all was C'mon, Let's Live a Little in '67, which boasted an eclectic cast that included singer Bobby Vee, future singing sensation Kim Carnes, Ken Osmond of "Leave It to Beaver," and Mamie Van Doren's ex-flame (and '60s baseball star) Bo Belinsky. In it Jackie sang "For Granted." Her TV appearances included episodes of "The Virginian," "Wild, Wild West," "My Three Sons," and "The Name of the Game." As you'd expect, she also sang on many variety shows, among them "The Jim Nabors Show," "The Ed Sullivan Show," "The Andy Williams Show," "The Jackie Gleason Show," "The Glen Campbell Show," "Shindig," "Shivaree," "Where the Action Is," and "Hullabaloo."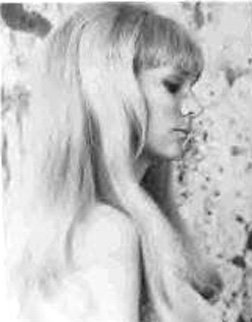 CAREER OUTSIDE THE '60s: After the '60s Jackie continued to write songs with and for other prominent artists. She signed with Capitol Records in '71, recorded one album (the laid-back Songs), then jumped to Atlantic Records for some collaborations with Van Morrison (unfortunately much of her work during these years has gone unreleased). In '75 she signed with Columbia Records, then in '77 she moved to Amherst Records. The late-'70s brought her a renaissance of creative success. She co-wrote "Santa Fe" with Van Morrison for his Wavelength LP in '78, and in '81 her song "Bette Davis Eyes" was made into one of the year's monster hits by Kim Carnes. While her own output in the '80s and '90s slowed as she kept a low profile, her songs continued to hit the charts. Among the post-'60s artists to record Jackie's songs are the Isley Brothers ("Put a Little Love in Your Heart"), the Carpenters ("Boat to Sail"), Jim Croce ("When You Walk in the Room"), Annie Lennox & Al Green ("Put a Little Love in Your Heart"), Dolly Parton ("Put a Little Love in Your Heart"), Tracey Ullman ("Breakaway"), Bruce Springstreen (bootleg versions of "When You Walk in the Room," and many more. "When You Walk in the Room" by itself has been recorded by over fifty different artists. Jackie's vocals have been used on several movie soundtracks, including Drugstore Cowboy in '89 ("Put a Little Love in Your Heart"), Becoming Colette in '91 ("There Was a Time"), and Forrest Gump with Sally Field in '94 ("What the World Needs Now"). Her "The Great Imposter," as sung by the Fleetwoods, was also included on the American Graffiti soundtrack in '73. In '99 a new song written and sung by Jackie, "Keeper of the Dream," was heard over the opening credits of the movie Unglued (retitled The Secret Life of Girls), but unfortunately this coming-of-age movie never made it into theatres. Fans will love her latest news: Jackie's newest CD came out in September 2000. Of the new CD, You Know Me, Jackie told us:
"It is definitely an extension of myself and is extremely personal, it's probably the closest I've ever been to the listener. I've been dreaming of making an album like this my whole career. For the first time I had complete freedom to choose the songs and the sound, making it for me one of my most meaningful albums. I've grown a lot spiritually, and that's why this album is so special, because I think that feeling, that truth is in there."
She gave her first live performance in years on October 27th at the Whisky in L.A. Playing with a nine-piece band and strumming an acoustic guitar, she opened with "When You Walk in the Room," then played her hits and some new songs for an hour. From the L.A. Times review of her show:
"Just as her warm alto was still fetchingly smoky-sexy, so were her messages still positive ones about love, whether the knee-weakening or the people-uniting variety. Such standouts as 'There Goes the One' recalled her earlier torchy tunes, balancing girlish infatuation with mature devotion. Although her sax-driven, heartland-rocking group resembled a milder version of Bruce Springsteen's E Street Band, the better songs evoked the plain-spoken twang of Tom Petty & the Heartbreakers. DeShannon's wistful sentiments were sincere, and, if not always deep, often thought-provoking. Coming from someone who helped spread hippie values, the poignant 'Vanished in Time,' which laments the disappearance of small-town America, also stood as a sad rumination on the dissipation of that whole love-sweet-love mind-set among the baby boomers she originally inspired."

TALENT: Jackie's managed to embrace all styles with her singing. She can sing passionate, soulful songs, she can rock with intensity, and she can convey the vulnerability of the best country singers with her heartfelt ballads. Author of something like 500 songs, she's gotten the ultimate industry accolades, including the Grammy Award in '82 for "Bette Davis Eyes." She explained the composing process to us in September 2000: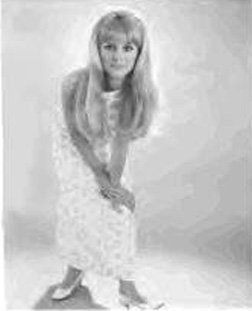 HER '60s LOOK: Blonde, pretty, and slender, the quintessential L.A. girl of the mid-'60s, Jackie might've established a long career for herself as an actress if she hadn't concentrated instead on her music. As it was, she frolicked attractively in a bikini in a beach movie and played a variety of costumed roles on '60s TV shows, including the part of a fetching saloon singer on "The Wild, Wild West." In the mid-'60s her stats were given in a magazine article as 5' 4" and 108 pounds. Late in the decade and into the early '70s she wore light, creative hippie fashions, effecting a peaceful, laid-back image.

LIFESTYLE: After dating Elvis Presley in the early '60s, Jackie married record exec Irving "Bud" Dain on January 29th of '66. Later she married Randy Edelman, who played keyboards on her '71 album Songs. Edelman later composed the scores for dozens of films, TV movies, and TV shows, including "MacGyver," Twins, Ghostbusters II, Troop Beverly Hills, Kindergarten Cop, Drop Dead Fred, My Cousin Vinny, The Mask, Dragonheart, Six Days, Seven Nights, and Shanghai Noon.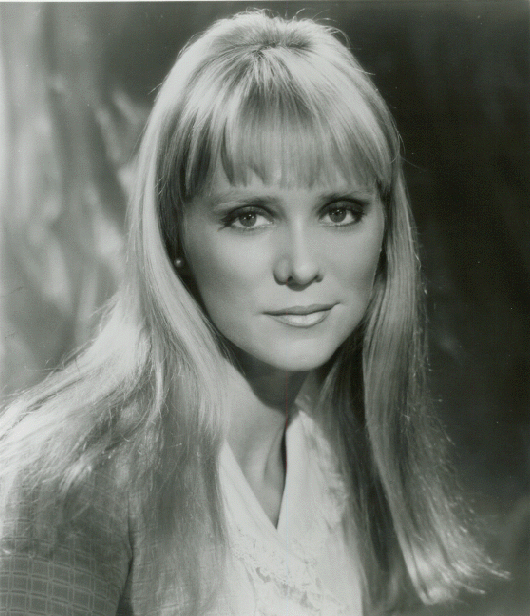 EXTRAS: Though she was born in Kentucky, she grew up in different towns in Illinois, where her dad was a barber ... while some writers put a space between the De and the Shannon, she herself makes them all one last name ... when Jackie toured with the Beatles in '64, she was usually one of many opening acts on the bill, for instance at the September 4th show in Milwaukee, the following groups were listed along with Jackie and the Fab Four for the same concert: the Exciters, the Bill Black Combo and the Righteous Brothers ... the September 16th show in New Orleans' City Park Stadium the Beatles Jackie, the Bill Black Combo, and Frogman Henry ... a mid-'60s article about her gave the following likes and dislikes: her favorite artists were Edith Piaf, Bach, Chopin, and the Beatles, her favorite color was "all of them," her favorite beverages were coffee and tea, her favorite food was a BLT with cheese on wheat toast, her likes were "foreign films, great black and white photography, collecting magazines, originality," and her dislikes were "phonies, waiting around before performing, trusting people and being disappointed, and too much or too little of anything" ... Jackie told us that she's always been her own toughest critic: "I've always been careful to put out the very best work I can. One of the things I value the most is the love and faith that people have given me over the years, so I try to live up to their expectations and my own standards of what I'm capable of" ... Jackie has her own official Web site at http://www.jackiedeshannon.com.

To our delight Jackie sent us her own personal photos for the 2002 edition of our Swingin' Chicks of the '60s wall calendar; get it from the publisher, Cedco Publishing, at http://www.cedco.com.

---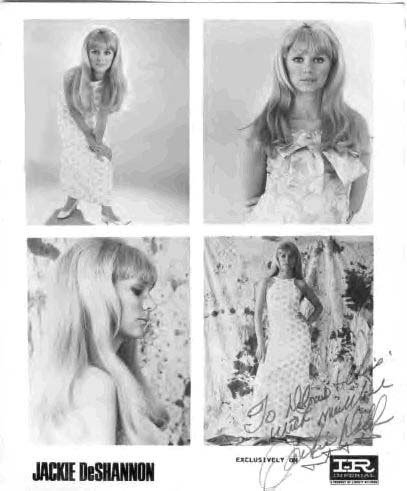 ---
Please click below for the index page for this issue.

---
Click on Jackie to return to page one.
---
---