THE JACKIE DESHANNON/
SHARON SHEELEY
SONGS
"DUM DUM"
(Brenda Lee, 1961)
"THE GREAT IMPOSTER"
(The Fleetwoods, 1961)
"TEARS FROM AN ANGEL"
(Troy Shondell, 1961)
"SO DEEP"
(Brenda Lee, 1962)
"HEART IN HAND"
(Brenda Lee, 1962)
"HE'S SO HEAVENLY"
(Brenda Lee, 1963)
"BREAKAWAY"
(Irma Thomas, 1964)
---
Please click below for the index page for this issue.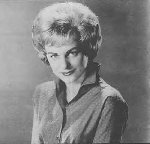 ---
Click on Jackie to return to page one.
excerpt from
Finding Her Voice: The Saga of Women in Country Music
by Mary A. Buffwack and Robert K. Oermann
© 1993 Crown Publishers
The Los Angeles rockabilly scene that included Lorrie Collins and Ricky Nelson revolved around songwriter Sharon Sheeley's apartment. She was the girlfriend of rockabilly great Eddie Cochran and co-wrote his pile-driving "Somethin' Else", as well as Nelson's 1958 hit "Poor Little Fool" and other teen tunes. In one of rock's most famous tragedies, Cochran was killed and Gene Vincent partially crippled in a 1960 taxi crash in England. Sharon, also badly injured, returned to Los Angeles barely able to walk. Though she and Cochran had planned marriage, she set about rebuilding her life by writing songs with Sharon Lee Myers, a teenager recently arrived from the South. Miss Myers was to become far better known as pop princess Jackie DeShannon.
Born in Hazel, Kentucky, in 1944, Jackie was the daughter of a country musician father and a blues singer mother. Her grandmother sang and played Irish folk songs, and several aunts and uncles were also involved in music. Jackie was a country radio performer in Kentucky and Illinois by age eleven. She first recorded in 1957. Unfortunately, the company "didn't believe that girls sold as well as boys", so her debut disc wasn't widely promoted. Gone Records billed her as "Jackie Dee", perhaps to disguise her sex. By age fifteen she was trying her luck in Music City. "I was going to Nashville and recording and promoting myself," she recalls. "I was very young, but my parents were encouraging. Either my mother or my father would accompany me on these trips." She issued her purest rockabilly single, "Buddy", in 1958, then the bopping "Just Another Lie" as "Jacquie Shannon & The Cajuns".
A reporter for Folk and Country Songs magazine went gaga over the rockabilly youngster in early 1959 after stumbling on a Nashville rehearsal session: "In my opinion Jackie Dee is one of the greatest new finds since the inimitable Elvis Presley. Electro-magnetic power - jet-propelled action and a voice to match - that's the Jackie Dee story in a nutshell." Also supportive during her Nashville days were Opry stars Homer & Jethro. But at a show in Chicago, Jackie met Eddie Cochran, then a rockabilly king with his huge "Summertime Blues". "He was very, very encouraging. He reminded me a lot of James dean. He said, 'If you really want to get somewhere, you've got to come to California.'" Jackie arrived in 1960 and promptly tore into a ferocious female reworking of Elvis's King Creole movie tune "Trouble".
The record is one of a handful of rockabilly singles where females express the kind of anger and anti-social tendencies that marked males' rock 'n' roll rebellion. Jackie was joined as a rockabilly "tough gal" by Jane Bowman, whose "Mad Mama" dealt with an overly jealous mate. "Let me tell you honey, this man is mad," Jane sang. "I'm gonna bash in your head." Using the musical setting of Dave Dudley's "Six Days on the Road", West Virginian Boots Collins contributed "Mean" to the era's "tough gal" trend. Her disc featured threats to her man with a shotgun. Angriest of all was Arkansan Joyce Green. In her echoey, sinister "Black Cadillac" she vows to bury her man. It has become one of the most collectable of all rockabilly singles, selling for hundreds of dollars on the rare-records market.
None of these records became hits. It was okay for Elvis to snarl, "don't you mess around with me", but not lithesome, flaxen-tressed, teenage Jackie DeShannon.
But Jackie kept trying. She issued four songs, including the aggressive "Put My Baby Down", in 1960 and was then signed by Liberty Records. Six successive singles stiffed in 1961, and even startlingly soulful renditions of Ray Charles' "I'll Drown In My Own Tears" and her own "The Prince" the next year did not turn the tide. Blessed with a gripping growl, a dark alto dip, and a country-gospel wail in her voice, Jackie was certain she had what it took as a singer. But it was her songwriting that sustained her.
She met Sharon Sheeley at Liberty, and the two became a hit factory for Brenda Lee, The Fleetwoods, Troy Shondell, Dodie Stevens, Peggy March, Bobby Vee and other teen idols.
"I loved having other people do my material. The thing was that I wanted to do some too." Convincing the record label of the value in her distinctive, hoarse, emotion packed delivery was another matter. Jackie finally made the national charts in 1963 with a soul-drenched reworking of the Bob Wills country classic "Faded Love". Then she found a Sonny Bono/Jack Nitzche song called "Needles and Pins". "Everything I presented to the label, they hated." During the subsequent British Invasion, The Searchers copied her record and created a classic. The group did the same with the impassioned DeShannon original "When You Walk in the Room".
Jackie's collaborator Sheeley married "Shindig" TV host Jimmy O'Neill, and he began featuring the headstrong, rocking singer/songwriter on his TV show and in his club, Chez Paree. The press labelled Jackie "the new Red Hot Mama with a rock beat". Things began looking up. After filming the 1964 teen flick Surf Party, Jackie headed to England to capitalise on her Searchers successes and her notoriety as an opening act for The Beatles on their debut U.S. tour. She appeared on Britain's "Ready, Steady, Go!" teen TV show, was the songwriter of Marianne Faithful's "Come and Stay with Me" and "In My Time of Sorrow" and had a romance with future Led Zeppelin guitarist Jimmy Page. Back in the United States, Jackie recorded versions of Buddy Holly's "Oh Boy" and "Maybe Baby". She was on the bill of the show he was en route to when he died in 1959, and she'd never forgotten Buddy.
Jackie became increasingly outspoken at her record label. "When I would . . . go in and ask about the sales of my record, they would call me a pushy broad. Or, because I'm small, they'd treat me like a child. I still have hang-ups about those days." She scored a major international hit with "What the World Needs Now Is Love" in 1965 and had her biggest success in 1969, with the million-seller "Put a Little Love in Your Heart", which she'd penned. Dolly Parton brought it into the country fold with a 1993 rendition.
On her later albums Jackie leaned toward country-pop on songs. In 1981 Kim Carnes scored a giant hit with the Jackie DeShannon co-written "Bette Davis Eyes".
Jackie has recorded with lush orchestras, as well as raw rockabilly bands. She has sung soul and country and folk and some of the most melodic, shimmering pop ever recorded. Although hugely successful as a songwriter, she never got the success she deserved as a singer. Was it her attitude? "I saw Rebel Without A Cause" and never got over it," she says with a laugh. "I never made it out of that fan club."