The Italians turn the song into a laid-back groover. This track from 1970 features a strong lead vocal, nice male backing vocals, a prominent bass line, and a shuffling beat. Nice, original take on the tune. 8 points.

PL This song does do well in most styles - we've had jazz, country, reggae, soul, pop, soft rock - and here's another gospel version. Alberta Walker and the Caravans do a classic call-and-response job and it doesn't do a tremendous amount for me, but deserves a worthy 6 points.
WG This sounds like real church gospel, not the pop gospel style in which this song is often found. It works well in this style, but doesn't really make for the definitive version. 6 points from me as well.

PL Carolyn Franklin is Aretha's sister, and do you know, Bill, on this version she reminds me a little of…well no, quite a lot actually. Think what Aretha's version would sound like - big band, wild vocals, lots going on, plenty excitement. It would be worth at least 8 points, wouldn't it? Well, so is this.
WG Her voice is much lighter than Aretha's, but she still has a way with a song! Very lively, with a funky band of horns, winds, guitars and percussion, and soulful girl singers. Sort of a cross between The Supremes and Sam & Dave. It's all good. 7 points.

PL Now, what is this. A slow, easy groove. Laid back, past the midnight hour, mmm mmm. It's The Staff. And I'm falling asleep, I'm so relaxed. This is lovely, superb, go on...... 9 points.
WG Wow! I thought the Vanguards took it slow. The tune becomes a simmering ballad here, gradually building to a slow burn. Great arrangement, with special kudos to the churning organ. I'm a believer! 8 points.

PL This is on the fabled Atlantic label, it's Willie Norwood and it came out in 2001, when the song was 32 years old. It's funky in a wap-wap-wap sort of way. Willie has an elastic voice; there's a great key change. Lots of fun, 8 points for daring to be unpredictable.
WG This is another soulful, churchy version. Norwood sounds a bit like Al Green. He slows it down, and the band is tasteful throughout, but I can't build up much enthusiasm for this track, especially coming right after The Staff's fine version. 6 points.

PL What's this - I've heard this before, ea-zeee. Great sax, chugs along, but where are the vocals? I know, it's The Staff again, with an instrumental version. Seriously cool, great listening - 9 more points (that's 18 for the band, Bill, can anyone beat that?)
WG I was expecting a karaoke track, but this is much better, with a saxophone taking over the lead. Pretty groovy, for those late nights by the fireplace. 6 points.

PL My gosh, this is a contrast. These chaps sound pleased with themselves. Is this barber shop or is it weird? Can you describe it, Bill, because I can't. Very musical, very clever, but this doesn't really add anything to Jackie's song and I'm not sure I like it a lot. 4 points. Next, please.
WG I guess I would call this vocal jazz, and it's by The Chords. I wouldn't call it particularly good jazz though. Rather irritating, actually. They may be technically talented at singing the complex vocal parts, but to what end? 5 points for creativity.

PL You know, there are a few records you hear when you feel that the guy who owns the recording studio may have had the hots for a gal whose best accomplishment is not singing. Julie Lynn does sing, but perhaps not at the same speed as the backing is moving along. A tiny bit embarrassing, this. Let's say 4 points and move on.
WG The best thing I can say about this is that her voice is reminiscent of Wanda Jackson. High praise indeed. Unfortunately, Wanda is an incredible singer and Julie is not. The arrangement has a little bit of a garage feel, which is odd as this sounds more like a country version. Still, there is some charm here. I give her more credit than you, Peter. 6 points.

PL Urggh, wish we'd stayed with Julie. I'm afraid I never liked Andy Williams not even when he's performing with something called Loadstone which, or who, emit some rather ugly noises. Did I mention embarrassing? 3 points.
WG Please, make it stop! This is making my teeth hurt! Ick. I'd better stop before I say something offensive. 2 points.

PL Sandi and Salli. Two females. Singing together. I can't think of anything to say. Mind's gone blank. Rather pointless, really. 4 points.
WG I think this was recorded at one of those little recording booths found in shopping malls. At least they are in tune. Could be worse, but couldn't be much more boring or pointless. 3 points, just because it's not as horrible as Andy Williams!

PL Here's another instrumental. It's bright and chirpy - bit like one of those old stereo demo records you played when you bought a new hi-fi. Hey, listen to the light and shade. It's Project 3 also known as Enoch Light. How's your stereo, Bill? 5 points.
WG Hey, the intro sounds like Suspicious Minds! This is muzak, but it does have some interesting moments. It kinds of combines all sorts of vintage pop styles into one (too) smooth arrangement. Not something I'll want to listen to very often, but okay I guess. 4 points.
PL Just when I was beginning to think I'd had enough and was ready to settle down to my new Westlife Greatest Hits album, here comes Julie Miller. Great singing, bags of confidence, great arrangement, too - bit like how you imagine the Byrds might have handled the song. I don't know a lot about Julie but I'd like to. 9 great points and tell us the score on JM please, Bill.
WG Julie Miller is a fantastic artist who started out recording contemporary Christian music. This version is from one of her CC albums. Now she is married to Buddy Miller, and has recorded two excellent solo CDs for Hightone, a duet CD with her husband, and regularly records and performs with Emmylou Harris (Buddy is Emmylou's current guitarist.) I can recommend her work highly. Her rendition of Jackie's tune is laid-back and beautiful, with jangly guitars strumming lightly in the background, lovely harmonies, topped off by her angelic voice. One of the best versions of this song I've heard. Rivals Jackie's own version, although they are very different. 9 points.
PL And finally, the Robert Patterson Singers. They sound American but this came out in the UK on United Artists. A swirling, enthusiastic, well crafted gospel version. Very nice to finish with. 7 points.
WG High and soulful female voice taking the lead, gospel responses, heavy bass line…they take a page from Jackie's original arrangement on this. A nice, strong version, if nothing original. 7 points to finish from me as well.
Thank you to Geoff Dadswell, Doug Wright, Ezio Degradi and Phil Chapman who supplied us with some of these versions. All recordings of obscure items gratefully received!
~ PL & WG
---
As this concludes the commentary on Put A Little Love In Your Heart, the JDSAS would like to make available recordings of the various versions. We have compiled onto CD the top 24 versions, plus a surprise bonus track available only from the JDSAS. The CD can be ordered for $15US/£10UK. (Please do not make checks or money orders payable to the JDSAS. Please make them out to William George in the US, or Peter Lerner in the UK).
Disclaimer: The sources for these recordings are primarily from tapes of vinyl. Although we have done our best to equalize the sound levels, sound quality varies from track to track.

The featured artists are:
Jackie DeShannon/Julie Miller/The Isleys/Dorothy Morrison/The Staff/Martha Reeves/Laura Love/The Vanguards/Joan Orleans/Dolly Parton/David Ruffin/Carolyn Franklin/The Staff (instr.)/Marcia Griffiths/Willie Norwood/Ella Fitzgerald/Dave Clark Five/Robert Patterson Singers/Gladys Knight & The Pips/Z.Z. Hill/Sandy Posey/Alberta Walker & The Caravans/Samantha Jones/Annie Lennox & Al Green

In addition to the above CD, for an additional $5/£4, you may purchase an additional CD with the remaining 25 records covered in our reviews. The artists featured in Put A Little More Love In Your Heart are:
Linda G. Thompson/Circle Jerks/Susan Raye/The Spurrlows/Cilla Black/Duane Eddy/Judith Durham/The First Collection/Clodagh Rodgers/3rd Avenue Blues Band/Billie Joe Spears/Sandy Nelson/Gracie Rivera/The Chords/Donna Rhodes/Unos, Dos, Tres/Julie Lynn/The Cufflinks/Becky Sue Wright/Project 3/Gunther Kallman Chorale/Norrie Paramor/Sandi & Salli/Andy Williams & Loadstone/Marc Copage.
---
---
Please click below for the index page for this issue.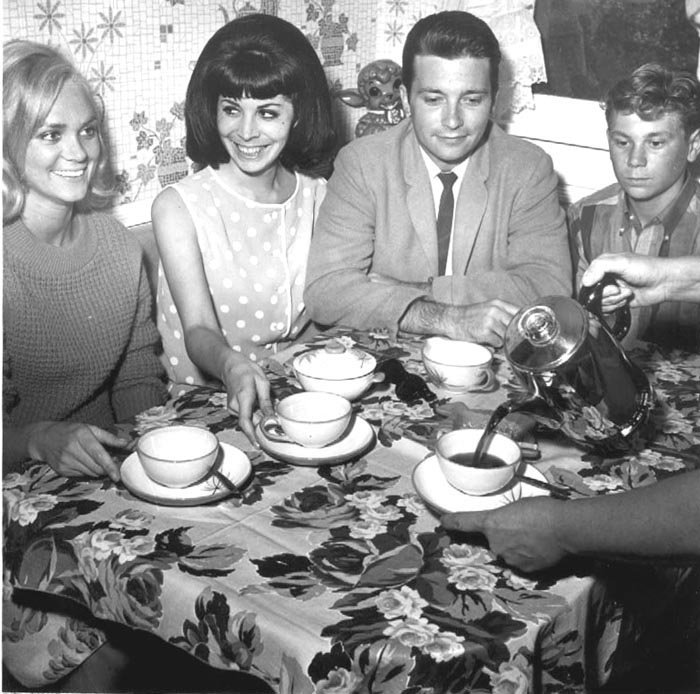 ---
Click on Jackie to return to page one.
---