Sharon Sheeley
(1940 - 2002)
---
The news of the sad death of Jackie's onetime co-writer, Sharon Sheeley, broke too late to be fully covered in the last edition of "Jackie". I am therefore taking the liberty of including the following quoted extracts in this on-line version of our magazine.
Alan Rickards
JDSAS Webmaster
3rd June 2002
---
Author Sharon Sheeley Dies
By LOUINN LOTA
Associated Press Writer
LOS ANGELES (AP)--Songwriter Sharon Sheeley, who as a teen-ager wrote the 1950s hit "Poor Little Fool", has died of complications following a cerebral hemorrhage. She was 62.
Sheeley died at Sherman Oaks Hospital Medical Center on Friday, family friend Elizabeth Asher said. A hospital spokesman confirmed the death and declined to give further details. Asher said Sheeley had been hospitalized since she suffered the hemorrhage on May 12.
Rick Nelson, teen idol and star of TV's "Ozzie and Harriet", recorded "Poor Little Fool" and it climbed to the top of the charts in 1958.
Sheeley also was the girlfriend of guitarist Eddie Cochran, who sang "Summertime Blues" and "C'mon Everybody". Cochran has a wide following in England and was killed in a car crash there at age 21.
Cochran influenced a generation of British musicians, including the Beatles, the Rolling Stones, the Who (who covered "Summertime Blues") and Rod Stewart. British fans mark the anniversaries of his birth and death.
Cochran had just completed a tour of England in 1960 when the hired car carrying him to London's Heathrow Airport smashed into a concrete telephone post. Cochran died the next day. Sheeley and fellow rocker Gene Vincent survived the crash.
"My most vivid memory of Sharon was of her living in London in the swingin' 60s", Sheeley's friend Asher told The Associated Press on Saturday. "She was such a California gal so she was always in a miniskirt and sandals then complained about being cold all the time."
Asher also remembers the notes commending her talent that Sheeley received from the Beatles John Lennon and Paul McCartney.
"She was inspirational to other people, certainly women, since she was an integral part of the male-dominated rock world", Asher said.
AP-NY-05-18-02 1005EDT
Copyright 2002, The Associated Press.
[Thank you to Peter Lerner for bringing this extract to my attention. ~ AR]
---
A message from P.J.Proby Sharon Sheeley RIP, Age 62 (1940 to 2002)
You are my sunshine on the hill
Good night little sister, remember we have a date to meet up
on our hill in Orville.
Don't worry about the time I will wait forever.
In heaven my love as it is on earth - Jimmy.
(and as the lady once said - P.J.)
PS. If it hadn't been for you there'd have never been me.
~0~
A Poem for Sharon (by P.J.Proby)
We had golden days
we chased the Summer times
we trumbled through the shades of Spring
that caused our youthful minds
we talked of crazy wishes
life held a special glow
but that was ours and oh so many memories ago.
Those long hot Summer sidewalks
so warm beneath bare feet
the crickets cricking in the shade
that cool the evening heat
the lazy Autumn days we used to know
but that was ours and oh so many memories ago
The music passed between us
the ones that got away
the carefree days left written on the wind
a time when time itself meant just another lovely day
when a loving hand would hold a lovely friend
yes I remember then
and how life held a special glow
but that was ours and oh so many memories ago.
Published here in anticipation of the permission of the P.J.Proby Official Homepage.)
---
Links to other Sharon Sheeley Obituaries
---
Please click below for the index page for this issue.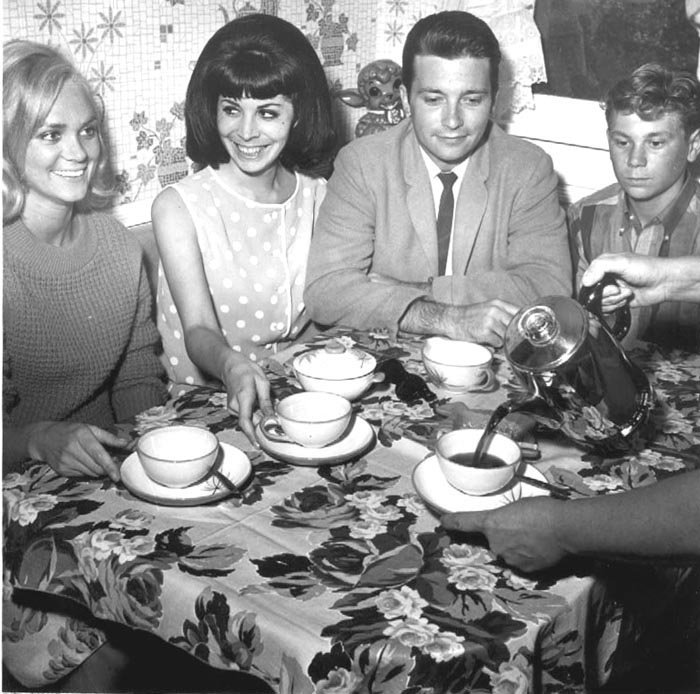 ---
Click on Jackie to return to page one.
---