speak out to me
---
Jackie's live internet chats
July 13 & August 16, 2002
Recently, Jackie graciously held two public chat sessions from her website. Below are a few of the questions and answers that appeared during the two one-hour sessions.

Jackie: First, Hi to everybody. Thank you for stopping by for our live chat. It's such fun to have this chance to speak to you personally. Feel free to ask any questions you'd like to. I'll do my best to remember but you may have to help me from time to time. This is so much fun and I really appreciate you taking time out of your busy schedules.

Q: Jackie, is there a new CD in the works?
A: I'm working on new material over the summer and fall. We'll keep you posted.

Q: Is there a lot of unreleased material from the '60s and '70s in record company vaults? And is there any chance any of it will be released in the near future?
A: The answer to if there is a lot of unreleased material from the 60s and 70s is yes. This is how it worked -- I would make demos every week. Those demos would sometimes end up on albums. They were just sketches and I never planned for them to be released as single records. I recorded 4 or 5 songs in a day. However, I was signed to Metric Music as a writer and I didn't have the right to orchestrate how they used my songs.
Q: Well, those "demos" are great. Better than most recordings released at the time! Did you produce and arrange them yourself?
A: I did produce/arrange the demos myself, and I'm very proud of it.

Q: I read in Billboard quite a while ago (you might have still been at Columbia) that you were recording material in collaboration with the Doobie brothers. Did you actually record any material that is sitting in a vault somewhere?
A: I did a couple of single sessions with The Doobie Brothers, but they were not released.

Q: Can you tell us something about the recordings and performances you did with Van Morrison? Why were they never released?
A: "Warm Love", which Van recorded and I'm singing with him, was released. "Santa Fe" was released. We're hoping to get the Atlantic Van Morrison sessions out on CD next year.


Q: What was Jimmy Page like to work with before he became a superstar?
A: Jimmy was very sensitive and caring and one of the best guitarists on the planet. We wrote several songs together and made some demos.


Q: What was it like to be on the Ed Sullivan show, performing in front of millions of people? Were you nervous?
A: It was a dream come true for me. I was very nervous, and my second appearance on the Ed Sullivan show, he was still talking and introducing me after my song had started. I really didn't know what to do. I just kept going. But it was an experience and one of the highlights of my career.

Q: The biggest influences I hear in your music are Ray Charles, Buddy Holly and Dinah Washington. Are those all artists you admired?
A: Ray Charles, Buddy Holly and Dinah Washington have all influenced my music. Their sense of excellence in choice of material and phrasing were very much a part of my learning experience.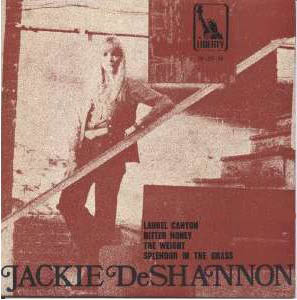 Q: What was the motivation behind Laurel Canyon?
A: Laurel Canyon was a mood and a sense of well being. Lots of artists were living in Laurel Canyon and it sort of felt to me like a spiritual home.

Q: "To Be Free" is one of my favourite albums you recorded. I've always been curious -- was most of the material written during a sojourn in France?
A: A lot of "Too Be Free" was inspired by my trip to Cannes. I was there for a music convention (medim).

Q: Can you tell us the story behind "New Image" and "For You"? You'd already made a name for yourself as a rock singer and songwriter and here you were in the studio with a full orchestra singing standards and sophisticated adult pop. Who or what convinced you to take on this project and what were those sessions like for you?
A: "New Image" was a project I had kept on the back burner since I was in my teens. I grew up with all kinds of music in the household. I had a little jazz band and we used to play all the standards, and I would sing from a big black book and learn them. It was great discipline for me as a singer to experience the challenge of learning such wonderful music. I've always felt I have been ahead of my time. Even so, it was a pet project and I'm very proud of that album. Once again, the record company I was recording for at the time did not have the vision or interest in promoting the album the way things are marketed today. I was one of those artists they couldn't quite put a finger on. Thank you for mentioning it, and one day I hope in the future to somehow find a way to get it released on CD.
Q: "New Image" is one of my favourites. I don't know if you've heard this, but Margo Guryan has been quoted as saying that of all the different versions of her songs that she's heard, your version of "Think Of Rain" is her favourite.
A: I had not heard that. It always makes me feel special to know a writer of a song approves my interpretation of her music.

Q: Jackie, some of your songs--"When You Walk In The Room" of course, but also a couple of lesser known compositions of yours--"He's Sure To Remember Me", which you gave to Brenda Lee, and "Pure Natural Love" which you gave to the Ovations -- strike me as being so perfect, such an organic whole, if you will, that they sounded instantly familiar to me even on first hearing. Do songs like these seem to write themselves, to emerge fully formed from your head, as opposed to being the result of painstaking trial and error? If so, is that a common or a rare experience?
A: having a song emerge "fully formed" is a rare experience. For a quick trivia note, it happened only one time to me. I wrote 3 songs at once. "Anna Karina," "Peaceful In My Soul," and "Salinas." They all fully formed at the same time and I finished them all within a day. It would be a lot faster if I could do that more often. But most of the time I do a lot of working through the direction and emotion that I'm trying to reach. And that takes a while.

Q: You wrote many songs during your early years at Liberty, yet the LPs that Liberty released had so many songs by other writers on them. Did it seem to you that they were giving too many of your songs to other artists?
A: Yes, it did seem like they were giving too many of my songs to other artists. One of the songs they gave away was "Come And Stay With Me". But in that particular case it had a sunny outcome because Marianne Faithfull's version was one cover that I really cherish. But they did discourage me from singing them because they could make double the income. They would have my version recorded down the road, and another version by someone with a top ten record. That was the norm at the time.

Q: When writing songs, did you always consider yourself to be the ultimate singer for them, or were there cases where you had someone else in mind all along?
A: I did write for other people and certainly had the artist in mind at the time. I didn't write songs just for
my own records. I was always interested in having people record my material, and I've been very fortunate to have some great records on my songs.

Q: Are you still actively trying to get your new songs covered by other artists?
A: Yes and no. I'm mostly concentrating on my writing as I am preparing new material for the live album. But to answer your question, it's a very special feeling to have another artist singing your song.

Q: Do you have a favourite cover version of any of your songs?
A: Yes I have a couple favourites. "Breakaway" done by Tracey Ullman, Kim Carnes' "Bette Davis Eyes", Mahalia Jackson's "Put A Little Love In Your Heart", along with Al Green & Annie Lennox's version; Paul Carrack on "When You Walk In The Room", Rita Coolidge on "I Wanted It All", Anne Murray on "Just To Feel This Love From You", and the list goes on. But those are a few of my favourites.

Q: I saw you perform "Fire In The City" on Midnight Special and your version was a real rock song but when the single was released it had a very strong country sound; it was quite a departure from the show. Any idea why? The rock track could have been a big hit.
A: More times than not, when I would get ready to record, the various producers I worked with acted like they were on the same wavelength with me. When it came time to record in the studio it was the good ole boys club, and they did songs the way they wanted. They arranged the songs the way they wanted, not the way I wanted.

Q: You did a little bit of work as a producer as well, for Delany Bramlett and your brother Randy (Raga & the Talas). Any good stories you'd care to share about those experiences?
A: I love producing. And I really wish I would have had more of an opportunity to pursue that goal. Maybe one day. I am so much at home in the studio and I think I could bring a lot to the table.

Q: Do you have any more live dates planned?
A: I'm working on east coast dates. I want to do a live album of the show. So I'm trying to put the details together and hopefully that will come to pass. I'm still trying to put together some sort of a mini-tour. But as you well know, I like things to be "just so" and I want to make sure I can do the kind of show that really means something to me. It's not as easy as it sounds. There are many logistics and lots of preparation and a vision that I have. And if one thing is missing then I don't do it. But thank you for asking. I'm keeping my fingers crossed that it will be sooner rather than later. U.K. tour planning is actually in the works. No specifics to report, but plans are being worked on.

Q: How can we get you into the rock and roll hall of fame? You should be in there!
A: Start a petition. (Note: Jackie did a seminar at the R&R Hall of Fame, and they had info on that at the time. There are also petition forms, etc. there.)
(Editor's note: All aspects of the induction process are handled by the Rock and Roll Hall of Fame Foundation. It can be reached at 1290 Avenue of the Americas, New York, NY 10104. The Foundation does not have e-mail available. I will try to print a petition in the next issue, if I can obtain one.)