---
The careers of Jackie DeShannon and The Byrds crossed paths many times. She gave them Don't Doubt Yourself Babe; they backed her up on Splendor In The Grass. They both recorded their share of Bob Dylan songs. And they have both been cited as pioneers, if not the creators, of folk-rock. Below are just two examples of their mutual influence on, and admiration of, each other.

Jackie contributed liner notes to The Preflyte Sessions – a recent CD of early Byrds recordings on the Sundazed label…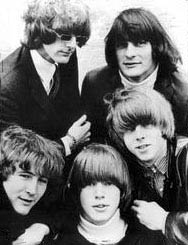 "I was such a fan. I used to go see them all the time on the Strip, and it was such a great time, a ground-breaking time. We were very, very kindred spirits. It was before Mr Tambourine Man - they recorded it shortly thereafter. I asked them to play on some of my songs, and they helped me put Don't Doubt Yourself Babe down for the first time on one of my sessions. They knew instinctively the feel that I wanted, and it was great. It's rare that your song is executed properly and the spirit of the material fits, exactly. And then they put it on Mr Tambourine Man and I was absolutely elated, because I knew that album was going to be big.
The Byrds were very conscious of material, of the words, of what the song said. They crossed the lines of folk and rock and hit the masses with Top 40 airplay, so that brought a lot of things to the foreground. So many groups have bounced off of and been influenced by the Byrds, knowingly or unknowingly, with their harmonies and their honesty and their free spirit. They were the first of what they were doing. It's very difficult, but it's nice to be in that eye of the storm."

Below are excerpts from a post by fan David Stine, from a Byrds website, describing the first time he attended a Byrds concert…

The summer of 1965 I was struggling to get my own little band teenage together when Mr.Tambourine Man, the song and the lp hit the charts. Although we were headed in a Rolling Stones/Yardbirds direction, the Byrds really turned us around. When we learned they would be coming to Rockford, IL (25 miles away) we had to go.
With a ride form our bandmate's sister (none of us had licenses yet), we attended our first-ever performance by a national act. The date was July 10, 1965 at Rockford College. For a madras-shirted lad from a small town, this concert would turn out to be one of the most influential I ever attended.
Although it was July and hot, the Byrds took the stage dressed as they looked in the press: turtlenecks, jackets, jeans. Except David Crosby who wore his green suede cape, of course. This was the "tambourine" band: Jim McGuinn, David Crosby, Michael Clarke, Gene Clark, and Chris Hillman. I believe they played a little over an hour. It was apparent that they didn't have several sets worth of material yet, and I wish I could remember what songs they played over and above those on Tambourine Man, but the only one that comes to mind is Jackie DeShannon's When You Walk in the Room. Other observations that stick with me, some thirty plus years later (has it been that long?) are Crosby's constant smile and the fact that McGuinn played with his fingernails.
To say that the Byrds influenced me, us, the world is an under- statement. I still talk with friends from our little band, and the Byrds and their influence and artistry still come up, along with the wonderful memories we share.