(April 4, 1940 - May 17, 2002)
---
We celebrated our hit songs in the early sixties at Tiny Naylor's Drive In, living the Hollywood Dream. With the convertible top down in the warm California sun. Those memories I will forever cherish. Sharon will be missed by everyone whose life she touched.
~ Jackie DeShannon

You are my sunshine on the hill
Good night little sister, remember we have a date to meet up on our hill in Orville.
Don't worry about the time I will wait forever.
In heaven my love as it is on earth - Jimmy
(and as the lady once said - P.J.)
PS If it hadn't been for you there'd have never been me.
~ P.J.Proby

A Poem for Sharon (by P.J.Proby)

We had golden days
we chased the Summer times
we trumbled through the shades of Spring
that caused our youthful minds
we talked of crazy wishes
life held a special glow
but that was ours and oh so many memories ago.

Those long hot Summer sidewalks
so warm beneath bare feet
the crickets cricking in the shade
that cool the evening heat
the lazy Autumn days we used to know
but that was ours and oh so many memories ago

The music passed between us
the ones that got away
the carefree days left written on the wind
a time when time itself meant just another lovely day
when a loving hand would hold a lovely friend
yes I remember then
and how life held a special glow
but that was ours and oh so many memories ago.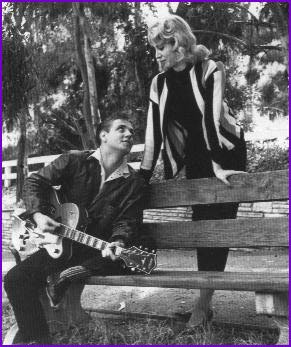 Songwriter Sharon Sheeley died May 17 of complications following a cerebral hemorrhage. She was 62. Sheeley died at Sherman Oaks Hospital Medical Center. Family friend Elizabeth Asher said Sheeley had been hospitalized since she suffered the hemorrhage on May 12.
"My most vivid memory of Sharon was of her living in London in the swingin' 60s," Asher told The Associated Press on Saturday. "She was such a California gal so she was always in a miniskirt and sandals then complained about being cold all the time." Asher also remembers the notes commending her talent that Sheeley received from the Beatles John Lennon and Paul McCartney. "She was inspirational to other people, certainly women, since she was an integral part of the male-dominated rock world," Asher said.
Female songwriters were almost unknown before the rock'n'roll era, and Sharon Sheeley and Jackie DeShannon were the first female songwriting team to have any success. In 1958, Sheeley became the first female writer to compose an American No 1 - "Poor Little Fool" by Ricky Nelson - without any help from a male partner.
Sheeley was born of Irish extraction in California in 1940. She loved the explosion of rock'n'roll in the mid-1950s and went to Hollywood to meet the stars firsthand. She dated Don Everly and hung around with Elvis Presley and his entourage. She also met Gene Vincent, whom she found "drunk and obnoxious". One of her boyfriends was called P.J. Proby and she used his name to rechristen James Marcus Smith, a demo singer being given a recording contract of his own.
"Poor Little Fool" was the first song that Sheeley ever wrote. An autobiographical lament inspired by her relationship with a married man -- rock pioneer Don Everly of the Everly Brothers, it was very catchy, but the lyric is clumsy and clearly the work of a newcomer. Since her family lived near Nelson in the tony Los Angeles suburb of Laguna Beach, Sheeley stalled her car outside his house and let him invite her inside. Sheeley told him that "Poor Little Fool" had been written by her godfather for Presley but that she thought it would be ideal for him. Nelson, delighted at being given one of Presley's songs, recorded it and it became his first US No 1. He was annoyed when he discovered that Sheeley had written the song herself. ``I really didn't care for the song to begin with,'' Nelson was quoted as saying in notes accompanying the 2000 boxed set ''Legacy.'' ``It was a different kind of song -- real uptown.'' He buried it on his second, eponymous album, but pressure from radio DJ's forced him to release it as a single, and it reached the top of the U.S. pop charts.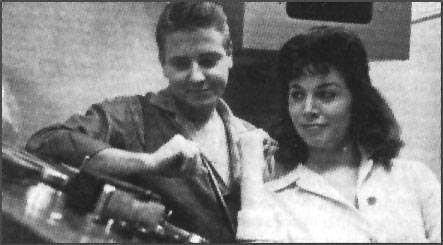 Jerry Capehart, then Eddie Cochran's manager and songwriting partner, agreed to look after Sheeley's interests and asked if she had anything suitable for Cochran. She dashed off "Love Again", which Cochran recorded as the B-side of "Summertime Blues", a Top Ten record in 1958.
In 1988 a television advertisement for Levi's 501 jeans recreated the start of the romance between Cochran and Sheeley. Sheeley would buy new dresses to impress Cochran, but he took little notice. When she went to his New Year's Eve party at the end of 1958, she dressed down with sweatshirt and jeans. Cochran said, "Are you in love with me, Charlie Brown?", which was his nickname for her. When she replied that that was no question to ask, he continued, "You'd better be, 'cause I'm sure in love with you."
For all that, Cochran did not write love songs for her, although he did refer to her habit of walking around barefoot in "C'mon Everybody". She would often be late and she wrote a song about this for Cochran, called "Hurry Up". Their friend, Ritchie Valens, liked it so much that he recorded it instead. Cochran recorded her songs "Think of Me", "Lonely", the poignant "Cherished Memories", and "Somethin' Else", a Top Thirty hit in 1959.
Many have assumed that Sheeley wrote "Somethin' Else" with Eddie Cochran but the "Cochran/Sheeley" credit on the song refers to Eddie's brother, Bob. Sheeley wrote most of the song but asked Bob to help her with some details about cars. Following the death of Sid Vicious in 1979, the Sex Pistols recording of "Somethin' Else" made No 3 in the UK. It has also been recorded by Tom Petty and the Stray Cats.
Cochran was devastated by the deaths of Buddy Holly, Ritchie Valens and the Big Bopper in a plane crash in February 1959. It made him reluctant to fly and hence to tour but he was persuaded by Gene Vincent to join him for a three-month concert tour of the UK early in 1960. They would fly to Britain but then they would travel by road and rail.
Coming from California, Cochran couldn't tolerate the English winter and he hadn't realised how difficult Gene Vincent was. Gene was a depressed, insecure alcoholic with an injured leg which left him in constant pain. Cochran was homesick and phoned Sheeley and asked her to join him for her 20th birthday. Sheeley, who was desperate to marry Cochran, flew over immediately. Cochran and Sheeley were reported as being "unofficially engaged"
Brian Bennett, who played drums on the tour, remembers, "Sharon was a lovely, quiet girl. She talked about music and not many girls could do that." The TV and record producer Jack Good got Sheeley signed to Decca and she recorded one song, "Homework", that, in view of later events, was never released.
The final night of the tour was at the Bristol Hippodrome on 17 April 1960 and they were due to fly back to America from London the following day. An inexperienced driver agreed to take Cochran, Sheeley and Vincent to London, and they were singing "California Here I Come" as they got into the car. Near Chippenham, in Wiltshire, the car hit a tree and Cochran died the following day. Vincent received further injuries and for a time, Sheeley's condition was critical.
Sheeley returned to Los Angeles and became a recluse, not wanting to have anything to do with music. Early in 1961, the Hollywood DJ Jimmy O'Neil brought the singer Jackie DeShannon to meet her, thinking that they might be able to write together. After some reluctance from Sheeley, they wrote "Baby (When Ya Kiss Me)" for DeShannon's next single.
Metric Music, the publishing arm of Liberty Records, encouraged them to make demos of their songs. Sheeley was also writing with Mac Davis and Larry Collins from The Collins Kids. A recent CD, Sharon Sheeley: Songwriter, shows the high quality of the demos and, in particular, "The Other Side of Town" with a lead vocal by P.J. Proby should have been a single. These demos include a song that was a US hit in 1961 for the Fleetwoods, "(He's) The Great Imposter", and "Guitar Child", which Duane Eddy recorded.
DeShannon and Sheeley had success with several songs for Brenda Lee in Nashville - the uplifting "Dum Dum", the emotional ballad "Heart In Hand", "So Deep" and "He's So Heavenly". They also wrote "Right or Wrong" (Crickets), "You Won't Forget Me" (Jackie DeShannon) and "Breakaway" for Irma Thomas, which years later became a big hit for Tracey Ullman.
The Searchers recorded three songs by Sheeley and DeShannon, "Can't Help Forgiving You", "Each Time" and "Till You Say You'll Be Mine". After leaving the Searchers, Chris Curtis wrote some songs with Sheeley, including the excellent "Night Time" for Paul and Barry Ryan.
Sheeley married the television presenter Jimmy O'Neil, who hosted Jack Good's US series Shindig, but when the marriage broke up, she moved away from Hollywood, effectively ending her partnership with Jackie DeShannon. She still wrote occasionally - notably "Runnin' On Back" with Del Shannon - and around 1990 she made an appearance at an Eddie Cochran convention in the UK. In her later years, Sheeley reaped royalties from the Sex Pistols' punk version of ``Somethin' Else.'' The composition was also covered by hard rock band Led Zeppelin on their archival ''BBC Sessions'' album from 1997.
She is survived by her son, Shannon Burg. No public services are planned, the statement said.

Tribute compiled from material by Spencer Leigh in The Independent; Louinn Lota, Associated Press Writer; Reuters Newswire; The Rockabilly Hall of Fame website and the P.J. Proby website.