The Story Of Jackie DeShannon
By Peter Lerner
Part 2
(From the unpublished Flamingo magazine)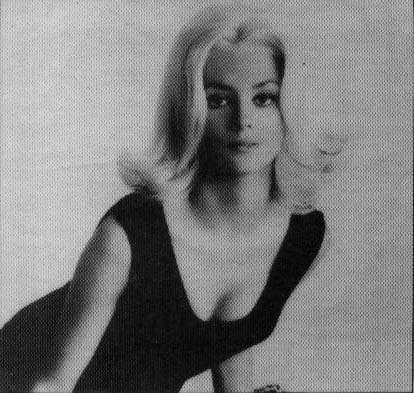 ---
THE BRITISH SOUND
It would be impossible to write about the period 1963 to 1965 without mentioning the rise of English pop music and particularly Mersey Beat. This time was crucial to Jackie DeShannon's career and caused it to change direction. The credit for this must go to the Liverpool beat group The Searchers, who first of all picked up on Needles and Pins, then took When You Walk In the Room into the British charts, both versions highly dependent upon the guitar sound originated by Jackie and Jack Nitzsche. From that point onwards, Liverpool groups were falling over themselves to find and record DeShannon compositions, among them the Fourmost, Billy J. Kramer and the Dakotas, Ian and the Zodiacs, and solo performer Beryl Marsden. The Liverpudlians were followed by other regional English singers and bands, among them Dave Berry, the Hellions, and the Paramounts. Although the Fab Four themselves never recorded a DeShannon song, they always recognised and credited talent from the USA, and did Jackie the honour of asking her to perform as a support act on their first US tour, in early 1964.
Posterity does not appear to have recorded how well Jackie performed, and it is likely that not a word was heard above the deafening screams of the teenyboppers. Nevertheless, the tour brought Jackie to prominence, and caused the ever opportunistic Liberty Records to throw together an album, Breakin' It Up On the Beatles Tour, now highly collectable, consisting largely of older recordings, but decent enough for all that. One "first" for Jackie at this time, was her decision to record three Buddy Holly songs in a Beatles-ish style, notably Oh Boy!, possibly the first time Holly's work had been revived after his death. An amusing footnote to this era is the single of How Do You Do It, recorded by Jackie with girl group The Murmaids on the Chattahoochee label, as the LadyBugs. It's hard to tell whether the ladies were being entirely serious, but you can see why Gerry and the Pacemakers had the hit.
Making the most of the English connection, Jackie shortly afterwards came across to the UK, to promote her own career, and her songs. She recorded a song in London, arranged by Charles Blackwell, specifically for the British market, and although Don't Turn You Back On Me did not make the charts, it was much played on the pirate radio ships, and Jackie also performed it live on the trendy TV show Ready Steady Go! This song mixed a certain folksiness with the jangly guitar, which her earlier records had originated, and the energy, which went into this performance, is phenomenal. The guitar player on the session was Jimmy Page. Jackie certainly made the most of her time in England. She made friends with the newly popular Marianne Faithfull, and gave Marianne one of her most commercial compositions, Come and Stay With Me. Faithfull subsequently recorded a number of other DeShannon songs. Jackie also co-wrote some excellent and unusual songs with Jimmy Page, which repay searching out. She also sang on an elusive Fontana single – although credited to Jimmy Page, the voice on Keep Moving is Jackie's.
As another footnote to this period, we shouldn't neglect the remarkable series of recordings that Jackie produced for her friend Delaney Bramlett on LA's GNP-Crescendo label, notable a storming Heartbreak Hotel, a brilliantly commercial version of Dominic Behan's Liverpool Lou, and Jackie's own beaty You Have No Choice – all startlingly original and demonstrating previously unknown depth's to Jackie's talents, within the confines and structures of the day's sounds.
BACHARACH, DAVID AND DESHANNON
At this time, Jackie might well have remained in England and become a queen of the mod scene. She didn't though – always full of surprises, she returned to the States to enjoy her first Top 10 chart hit. Top song-crafters Burt Bacharach and Hal David had swamped the charts with a series of cultured, tuneful ballads mostly sung by Dionne Warwick. Perhaps they felt the need to have a different voice express their material; they chose well, because Jackie DeShannon's original version of What the World Needs Now Is Love was, and remains, a classic. Bacharach and David produced the recording, with an unforgettable arrangement and warm, husky performance from Jackie. B&D wrote and produced a few more songs for Jackie, notably the dramatic and highly underrated A Lifetime Of Loneliness, one of my own personal Desert Island Discs. What the World Needs Now is Love marked not only a change of image for Jackie, but a change of record label, to Liberty's newly acquired Imperial Records.
THE IMPERIAL YEARS
Perhaps the next couple of years, up to 1968, mark one of Jackie's least creative periods. She released a number of pleasant enough singles and albums, containing quality ballads and excursions into Motown-style soul, the latter convincingly enough to have turned one 45, Find Me Love, into a collector's item among the Northern Soul fanatics. The 1967 album For You was a bold experiment comprising "standards" with orchestral arrangements – an idea borrowed more successfully by Linda Ronstadt fifteen years later. Me About You, released in early 1968, was an excursion into soft rock, with songs by Tim Hardin and John Sebastian. The albums featured a lower than usual proportion of DeShannon compositions, and although the singing was one hundred percent and songs always listenable, there was perhaps less excitement in the air. Jackie was in fact using this time to try to develop her acting skills and, more importantly, was attending art school.
JACKIE IN THE MOVIES
At this point it is worth making a quick detour to look at Jackie's movie career. She co-starred with Bobby Vinton in 1964's Surf Party. ("light drama with music…geared to the teenage craze for surfboard riding"), wore a bikini and sang the only known surf gospel song, Glory Wave. Bobby Vee and Eddie Hodges were Jackie's co-stars in C'mon Let's Live A Little, a 1967 film about folk singing teenagers at college. This one is fun to watch (especially Jackie in her nightie) although it hardly stretches the brain, and Jackie's impassioned solo of For Granted is a high spot. Singer Kim Carnes, who many years later would have a smash hit with Jackie's song Bette Davis Eyes, has a minor role. Jackie's only other movie role of note was as a hooker (presumably this doesn't mean a rugby player) in Intimacy, in which she did not sing.
PEACE LOVE AND L.A.
If Jackie's career had ended here, we would have been celebrating a great singer and influential writer. We would not have reckoned with 1968's Laurel Canyon, one of Jackie's great albums and another major change of musical direction. Exit the well-groomed young female entertainer; welcome the blonde hippie chick pictured sumptuously in a series of Sue Cameron photos on the album cover. And the music! Jackie's band for this record included Mac "Dr. John" Rebennack, Barry White, Russ Titleman and Harold R. Battiste Jr., producing a loose, flowing sound, supporting Jackie's soulful voice in top form. Many of the songs celebrate Los Angeles and particularly the Laurel Canyon area. Joni Mitchell's Ladies of the Canyon, released a couple of years later, could not have been written without reference back to Jackie's sublime Holly Would on this album. Other standout tracks include Jackie's hit version of The Weight, and her own belated but brilliant recording of Come And Stay With Me. A surviving video of a live performance from this era shows what a great sound this ensemble produced.
Ever one to ring the changes though, Jackie put out an experimental 45 of two Bobby Womack songs, Trust Me/What Is This, also produced by Womack, and then hit gold with another soul combination. Joining forces with soul trouper Jimmy Holiday, a singer with Liberty's Minit soul label, Jackie turned a tune written by her younger brother, Randy Myers, into her career's best selling single. Put A Little Love In Your Heart was a Top 5 hit and sold a million copies in the States. In the UK, the song was badly covered by the in-decline Dave Clark Five, and missed out completely. However, Jackie's version, a sort of celebratory Philadelphia soul-gospel fusion, was exactly right for the times, and gave birth to an album of the same title, with most of the songs written by the DeShannon-Holiday-Myers partnership. Put A Little Love In Your Heart has been recorded by singers from Ella Fitzgerald to Dolly Parton, and has become an industry standard. It is a shame that, compared to the luxurious packaging of the preceding and succeeding albums, this LP should show such obvious sign of having been rushed out.
Unpredictable as ever, DeShannon's next non-album 45 was a Christmas coupling, one of her most difficult records to find. The turn of the decade saw her last album for Liberty-Imperial, To Be Free. The gatefold album sleeve depicts a purple-clad and winsome Jackie holding flowers, and on the inside, a lovely, naive painting of Jackie and various cuddly and cute animals. All round, it is a superior album to the hasty Put A Little Love In Your Heart, with the reflective Sooner Or Later, the catchy Brighton Hill, and the searingly emotional medley of You Keep Me Hangin' On/Hurt So Bad as standout tracks. Jackie DeShannon was by now a fine performer and, as a female singer/songwriter, was far ahead of her time. Time perhaps for a change.
(continued next issue)
---
---
Links to the other parts of this biography.
By Peter Lerner
By Peter Lerner
By Peter Lerner
---
Click on Jackie to return to page one.
---